The Guyana Lawn Tennis Association yesterday launched the inaugural Courts-sponsored junior tournament at the company's office on Main Street yesterday where a cheque was presented to the association.
The cheque valued at $265,760 was presented to the GLTA who was represented by president Ramesh Seebarran and vice president Grace McCalman.
"It's a special moment for the GLTA. We have worked from dawn to dusk to get juniors involved and get tennis to where it should be. It's nice to know that the company is making a direct contribution to the juniors," said Mc Calman.
"Currently we are making a mark in the juniors in the Caribbean and only one direction we can go from here and that is up. Thanks to Courts once again for supporting the juniors," added McCalman.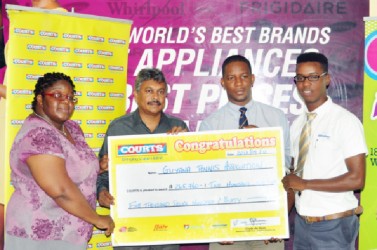 Pernell Cummings, Marketing Manager of Courts said:"Courts will continue to support and develop the sport at the grassroots level in partnership with the GLTA. One day, hopefully, we will have a Guyanese player playing at a grand slam and winning it."
The competition, which will run from September 14th-29th will be contested every Saturday and Sunday at the Non Pariel Racket Club on Woolford Avenue. The competing divisions in the tournament are the boys and girls U10, U12, U14 and U18 categories respectively.
Trophies and monetary prizes will be awarded to the respective participants.
Around the Web