A five-man team of national riders spearheaded by this season's most successful cyclist, Alanzo Greaves and National Road Race Champion, Raynauth Jeffrey departed for Suriname this morning to compete in the annual four-stage Bigi Bergi Road race.
The inform Greaves, winner of 13 local events as well as three races in the USA this season,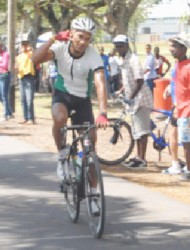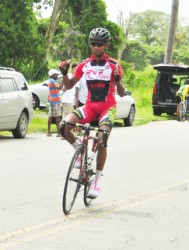 will team up with Jeffrey, last year's senior road race champion, Orville Hinds, junior road race champion, Michael Anthony and Enzo Matthews on a quest to secure the top honours for Guyana when the event pedals off on Friday.
The formidable five-man unit was chosen by the selection committee of the Guyana Cycling Federation (GCF).
Executive member of the GCF, Brian Allen will act as manager while former national rider, Dwayne 'Road Hog' Gibbs will take up the coaching duties.
Allen told Stabroek Sport yesterday that he expects the team of riders "to ride at a high level in Suriname."
Allen also disclosed that the first stage rolls off on Friday at 14:00hrs, followed by the second stage on Saturday also at 14:00hrs.
On Sunday morning a criterium race will be held followed by the time trials in the afternoon.
Greaves was confident of his chances as well as his teammates.
"I know from my performance as well as the performances of Raynauth, Michael and Orville for this year have been outstanding, I am confident in our team, if not to win it, we should at least be in the top three."
The top rider of the annual event will earn $US1000 and a trophy while the second, third, fourth and fifth place finisher will pocket $US800, $US600, $400 and $US200 respectively.
Guyana's original team comprised six riders, USA based, Geron Williams, Junior Sportsman of the Year, Paul DeNobrega and Warren'40' McKay, Greaves, Jeffrey and Hinds but Williams returned to the USA and DeNobrega and McKay pulled out because of financial constraints.
The cyclists and officials are scheduled to return to Guyana on Monday.
Around the Web