Guyana's Assad Fudadin yesterday said that he is hoping for good batting performances on the upcoming West Indies A team tour of India to earn a recall to the West Indies senior team for their tour of India in November.
Fudadin is one of several Guyanese players in the West Indies A team which is scheduled to take on India in the 'A' series fixtures which commence September 15.
"The first thing on my mind is to get runs. I just want to score big or get a few good scores while putting out good performances that will keep me in the selectors' minds," he told Stabroek Sport in the exclusive interview.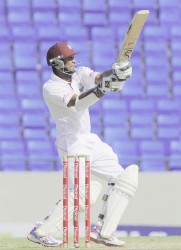 The 28-year-old Fudadin pointed out that despite having slammed a career-best 145 against Sri Lanka 'A' back in June; he is now looking to take new hunger and momentum into his upcoming encounter against the India 'A' team.
Acknowledging the success he had when he last represented the West Indies 'A' team, he stated: "Coming off runs is good for a batsman, but the past is the past and I try to better each performance every time I go out to bat."
The stylish left-hander duly declared that his main focus was getting back into the senior West Indies fold and scoring runs.
Fudadin, who has already racked up three first-class centuries, 14 half-centuries and is approaching 3000 runs, said that he would have also liked to be a part of the 50 overs and T20 sides.
"I have a very good record in T20 domestically and regionally and I would hope that the selectors someday give me the opportunity to show my worth in that format."
Regarding the 50 overs format, he opened up about his dissatisfaction towards his own form saying: "The few opportunities I had with the West Indies I did well. To be honest, I haven't done well enough to satisfy myself in the ODI formats," he said adding that he will seek to correct that once given the chance.
Fudadin said he regarded himself as a main contributor in the team and said he will have to quickly adapt to the conditions, which he opined are obviously different from that of the Caribbean.
Getting acclimatized quickly to the foreign conditions will be a major key, he declared.
Apart from the obvious first preference of wanting to represent the West Indies at the highest level, Fudadin said that he would have also liked to represent Berbice in this year's Senior Inter-county tournament which commences September 21.
"It would have been nice to represent Berbice and continue to score for them as I have been doing over the past years as one of the main contributors to their cricket, but I think that they have enough experience and good players to do well. However, playing for the West Indies is my first choice."
A top order batsman by nature, whether playing for Guyana, West Indies 'A', West Indies Senior or simply playing in his county Berbice, Fudadin was asked about his comfort zone in the batting line-up.
He proudly explained that he is a "natural top order player" and will occupy whichever position is present in the order "with the aim of playing to benefit the team."
With approximately nine days left before his departure to India, Fudadin has a personal commitment towards keeping fit and is doing a lot of gym work.
He also works on his batting technique at the Gandhi Youth Organisation club (GYO), which he said is "putting him in a patient mindset to bat long and score freely."
Fudadin also expressed his thoughts on the quality of the Indian bowlers he will be facing but said that he will not be looking at names but rather he will be focusing on the ball, while taking his batting during the series step by step.
Around the Web