Automotive company Sankars Auto Works in a simple presentation ceremony conducted at their Seaforth Street Campbellville location donated 13 football cleats to Georgetown club Pele FC.
Marketing Manager Shiv Sankar during a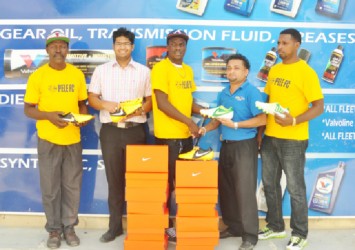 brief address stated: "This is our way of contributing to sports. We are making sure that teenagers and kids have somewhere to go and expose their talents. We would like to see the sport develop and to get to be as big as the professional leagues around the world."
Pele Coach Barry Myers in an invited comment said: "It was a good and timely gesture. On behalf of the club and all its supporters we thank Mr. Sankar for the gesture. It will go a long way and we hope it will be a lasting relationship and that they continue to support the club.
"We hope the supporters of the club who own vehicles in turn support the company," added Myers.
Around the Web