Guyana's formidable five-man unit will be ready to roll and compete as a team when the annual four-stage Bigi Bergi Road race in Suriname pedals off today at 14:00hrs in Paramaribo.
"Everybody knows their roles" Team Manager, Brian Allen told Stabroek Sport yesterday.
"After a very exhausting overland trip we had an early dinner and then a team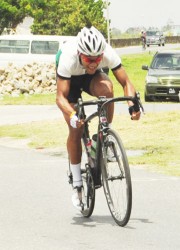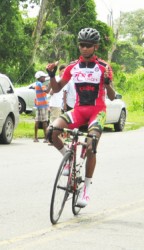 meeting so they will be looking out for each other on and off their saddles."
Allen added that: "The bunch looked well rested and focused after the workout" yesterday and will be "ready to war" this afternoon.
The team comprises this season's most successful cyclist, Alanzo Greaves, National Road Race Champion, Raynauth Jeffrey, last year's senior road race champion, Orville Hinds, junior road race champion, Michael Anthony and Enzo Matthews. Greaves, winner of 13 local events as well as three races in the USA this season, will spearhead the charges on a quest to secure the top honours for Guyana.
The second stage rolls off tomorrow also at 14:00hrs.
On Sunday morning a criterium race will be held followed by the time trials in the afternoon. The top rider of the annual event will earn $US1000 and a trophy while the second, third, fourth and fifth place finisher will pocket $US800, $US600, $400 and $US200 respectively.
Around the Web