Former national under-19 opener Robin Bacchus is looking to dominate this year's Senior Inter-county Tournament if selected to the Demerara team and hopes that his performances are good enough to land him a spot in the national team for the 2014 Regional Super 50 tournament.
The 24-year-old opening batsman, who plays for the Georgetown Cricket Club (GCC) told Stabroek News that he hopes to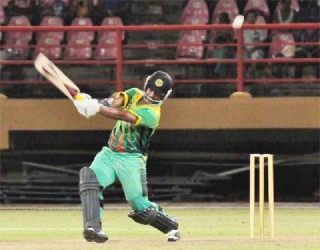 represent Demerara in the upcoming Pepsi Inter-county tournament which starts on September 21, followed by the Super 50 slated to bowl off in January.
Bacchus recently made his senior debut for Guyana against Regional T20 Champions Trinidad and Tobago Red Force who will be representing the Caribbean at this year's Champions League T20 tournament in India. The teams played two T20 matches at the Guyana National Stadium and Bacchus justified his selection at the top of the order by top scoring with a mature 60 in the second T20 match and led his team to victory with the assistance of his skipper Chris Barnwell and overseas guest player Krishmar Santokie.
Speaking on his current form and confidence, he said, "Basically the confidence comes from the trials against Trinidad & Tobago, along with some work at GCC in the nets, when I worked on my technical aspects, but I'm overall comfortable with my form and being in the team was a real confidence booster."
The left-hander also lauded the efforts of GCC coach and former Territorial Development Officer of the Guyana Cricket Board (GCB) Monty Lynch whom he said helped him a lot.
"It paid off for me working with Mr Lynch, he's one of the more decent coaches and he is also very approachable, while possessing good knowledge of the game," he said. According to Bacchus, his focus now is to "dominate the Senior Inter-county" and "reach the Super 50." He also said that he will be aiming to make the final cut as one of the team's openers.  "I'm a specialist opener and I'm comfortable where I can play my natural game, which is being there from ball one," he explained.
A part-time medium pace bowler, Bacchus said his bowling can also be an asset to the team, especially against Berbice whom he jokingly said are wary of fast bowling. He also relishes the thought of playing with Barnwell and Steven Jacobs as his teammates in the upcoming senior season.
"Playing at this level with Jacobs and Barnwell will be new and I am looking forward to learn[ing] from them, to see how they go about preparing for games and their approach," Bacchus said, adding that the two are experienced at the highest levels.  "They are good leaders who don't mind taking advice from other players," he said, emphasising his eagerness to assist them.
The batsman further said that he is willing to step up in the absence of his GCC teammate, Leon Johnson who is currently in India representing the West Indies 'A' team and will be unavailable to represent Demerara.
"Leon is one of the most respected players who gives 100 per cent all the time and is also a great team guy," he said, adding that while it will be challenging to fill Johnson's spot he is eager to try.  With the senior cricket season just around the corner, Bacchus said he plans to take "one step at a time" as he is confident that "by putting in the good work, rewards will come."
Around the Web