Gold medallist at last year's Central American and Caribbean (CAC) Bodybuilding and Fitness Championships Devon Davis and local bodybuilding Queen Alicia Fortune recently received assistance from Giftland OfficeMax to compete in this year's championships.
This year's 41st annual championships will be staged in the Dominican Republic from September 18 to 24.
Davis, the current Giftland bodybuilding ambassador and former Mr. Guyana, will compete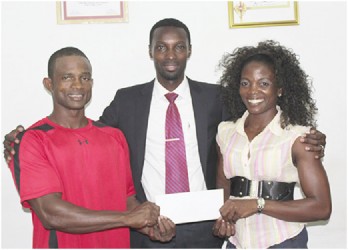 in the flyweight division, the same category he out flexed and out posed his rivals in to earn the gold at last year's championships in Puerto Rico.
The chiseled Fortune, who is also a Giftland ambassador and the current Ms. Guyana, will compete in the Ms. Body Fitness Open category.
In a recent press release, Public Relations Officer of Giftland OfficeMax, Compton Babb stated that the entity was pleased to support the muscle man and woman, who are part of the Giftland Sports and Fitness Ambassador 2013-2014 programme, as they prepare to represent Guyana.
"We embrace the success of both individuals and we are prepared to assist with the continual developmental in their life's goal. We congratulate both athletes as they represent our country, company and brand as proud and admirable ambassadors."
President of the Guyana Amateur Body Building and Fitness Federation (GABBFF), Keavon Bess, expressed his gratitude to Giftland for assisting Davis and Fortune at the championships.
"The members of the GABBFF will like to thank Giftland Officemax for coming on board and assisting some of our athletes with their airfares. The said assistance has helped us to guarantee a proper representation of the Golden Arrowhead," Bess stated in a statement, adding that the team will do well and make Guyana proud again.
Around the Web