Top veteran, Stephen Fernandes powered to his first win of the season yesterday by out pedaling 20 other rivals to claim the feature 35-lap event of the 13th annual DeSinco Trading  sponsored 11-race cycle programme.
In windy conditions at the National Park, the 38-year old emphatically won the event in one hour, 24 minutes and 17 seconds.
With the cream of the nation's riders currently competing in Suriname's annual four-stage Bigi Bergi Road race, Fernandes also seized the opportunity to pocket two sprint prizes.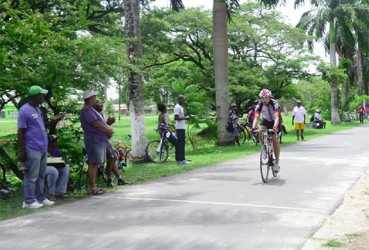 Fernandes led last year's meet champion, Marlon 'Fishy' Williams and Williams' Roraima Bikers Club mate, Raymond 'Steely' Newton onto the podium.
Chris Persaud, Neil Reece and Alonzo Ambrose completed the top six.
Williams also copped three primes, while one apiece went to Newton, Warren '40'Mckay and Ambrose.
Before the feature event, Newton rode off with the veteran's under-50, five-lap, first place trophy and the prime prize beating Talim Shaw and Fernandes who were second and third respectively.
Jamal John took top honours in the three-lap, BMX boys Open race ahead of Keiron Rutherford and Daniel Fraser.
In the 12-to-14-years, boys' and girls' three-lap race, Alfie Sonoram took home the winner's. John was second while Andrew Hicks who placed third snared the sprint prize.
In the five-lap veteran's over-50 race, Linden Blackman was the first finisher followed again by Virgil Jones and Wilfred Thom.
Monty Parris won the veterans' over-60 years' race ahead of his arch rival Maurice Fagundes.
Ray Rawle won the junior's and juveniles' 10-lap event while Hicks and Cleveland King were the top two runners up.
However, Sonaram who placed fourth won the two sprint prizes. The race for the Mountain Bikers was won by Richard Charles. Keon Thomas and sprint prize winner, Clyde Jacobs placed second and third respectively.
Amo Gomes, Stephen Wilkinson and Thuran Garbarran were the top three finishers in the BMX Boys nine to 12, three-lap event while Rawle Small, Deeraj Garbarran and Reginald Jackson occupied the top spots in the BMX Boys 12 to 14 race.
The two-lap BMX boy's six-to-nine year's race was won by Sherwin Sampson while Jeremiah Harrison and Alex Leung pedaled in second and third respectively.
At the prize giving ceremony, the event's organiser, Hassan Mohamed thanked the representatives of DeSinco Trading who supporting the meet under the Degree brand for the sponsorship of the event. Mohamed also thanked the cyclists for participating in the meet and making the programme a success.
The cycling coach also disclosed that the cyclists will be on their saddles again next weekend. On Saturday they will compete in the second annual RRT Enterprise 11-race meet at the National Park then the annual Banks Malta 50-mile road race at West Demerara.
Around the Web