Running Brave athlete Jevina Straker yesterday won the battle of the CARIFTA Games gold medalists when she twice defeated Cassey George in the middle distance events at the Athletics Association of Guyana Inter-Guiana Games trials yesterday at the Police Sports Club ground, Eve Leary.
Straker, a two-time CARIFTA Games gold medallist ran with authority to defeat CARIFTA Games gold and silver medalist George in the girls'1500 and 800m.
Straker registered 4:58 seconds and 2:20 seconds in winning the 1500 and 800m respectively ahead of George who clocked 5:10s and 2:25s respectively.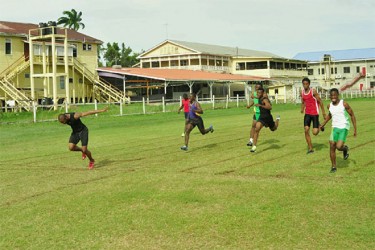 George had taken the lead for the first two laps of the 1500m but the strong Straker took charge and passed George on the final lap and never looked back. Andrea Foster, 2011 IGG medalist came third in 5:19 seconds.
In the 800m Latovia Moore clocked 2:59s for third place.
Ornesto Thomas, an IGG bronze medalist, won the boys' 1500m in 4:28 seconds ahead of Kevin Nicholas 4:31.2 seconds who later returned to defeat distance sensation Samuel Kaitan in the 5000m.
Nicholas sprinted home from the final 180m of the 5000m to register 17:37 seconds with Kaitan clocking 17:54 seconds. Carl McKenzie settled for third place in 18:20seconds.
Quacy Blair won the boys' 800m after out sprinting Thomas in 2:02 seconds. Thomas stopped the clock at 2:05 seconds while Rondel Austin tapped into his gas tank after being positioned in fourth place to finish third in 2:06 seconds.
Guyana's fastest female 100m sprinter Alita Moore easily captured a sprint double in the girls' 100m and 200m finals in 11.8 seconds and 24.9 seconds respectively. Tirana Mitchell came second in 12.2 seconds in the 100m while Onika Eastman was third in 12.5 seconds.
Moore separated herself from a pack of eight other sprinters in the 200m scratch start race and was first off the turn ahead of CARIFTA Games bronze medalist, Mitchell who settled for second place in 25.5 seconds.
Kevin Abbensetts of Mercury Fast Laners also won a sprint double in the 100m and 200m. Abbensetts, national schools championship gold medalist clocked 10.6 seconds ahead of national junior sprint champion Tevin Garraway who led the race until pulling up five metres before the finish line.
Garraway, of Police Progressive Youth Club (PPYC), hopped across the finish line in agony in 10.8 seconds.
The officials failed to record any time for the boys' 200m final which Abbensetts won ahead of CARIFTA Games 200m bronze medalist Jason Yaw and Dequan Vancooteen, one of Guyana's South American Junior Games representatives.
Yaw was able to bounce back in the boys' 400m which he won in 50.1 seconds after being challenged by Quacy Simpson who clocked 50.4 seconds; Selwyn Foster came third with 50.9 seconds.
Jevina Sampson clocked 59.9 seconds to win the girls' 400m final which saw a few mishaps occurring. The scratch start race, which ran on an unmarked track, saw Natrica Hooper suffering a blow which left her flat on the ground.
The youngest competitor at the trial, Claudrice McKay stormed the 400m track in the girls' 3000m which she won in 11:26 seconds. Cassie Kirton held on to second place in 12.10 seconds while Foster, another representative for the South American Junior Games dropped out.
Hooper competed for the first time in the triple jump and leapt to a new personal best of 10.13m ahead of Linden's Kelanie Griffith 9.59m and Shomane Daniels 9.28m.
Parish Cadogan, as expected, bounded to two victories in the jumps with best distances of 12.86m in the triple jump and five feet seven inches in the high jump. Yoel Benjamin secured the second position in the triple with 12.56m while Samuel Gray finished second in the high jump after clearing a distance of five feet three inches.
Gray leapt away with the boys' long jump with 5.88m ahead of second and third place finishers Damon Williams and Devon Browne who had 5.80m and 5.77m respectively.
Merisha Carter won the girls' long jump after bounding to 4.57m. Griffith settled for another second place finish with 4.50m while Ruth Sammangoon came third with 4.19m.
Tiffany Pilgrim came out victorious in girls' shot put after throwing the iron ball to 8.61m ahead of Kristy Roberts (8.55m) and Khadidja Ba (8.49m). Micheal Brummell won the boys' shot put with his best throw of 12.31m; Laurel Stewart was second with 11.12m.
Niossi Alsopp sailed the girls' discus to 21.39m to win ahead of Roberts and Ba who had 21.03m and 19.81m respectively. Stewart was first in the boys' version with 30.09m while Benjamin was runner-up with 28.69m.
Meanwhile, a few spectators were disappointed with the conditions the athletes competed under given that it was a national trial. All of the races were started with a whistle instead of a pistol with the only section of the track marked being the 100m.
Stabroek Sport was able to speak with the President of the Athletics Association of Guyana (AAG) Aubrey Hutson briefly who mentioned that the athletes' interest was at his best.
Around the Web