Incumbent president of the Guyana Boxing Board of Control (GBBC), Peter Abdool and the other executives were all re-elected to their posts when the board held its Annual General Meeting (AGM) yesterday at the Civil Defence Commission.
Abdool, who is also president of the Caribbean Boxing Federation (CABOFE), was returned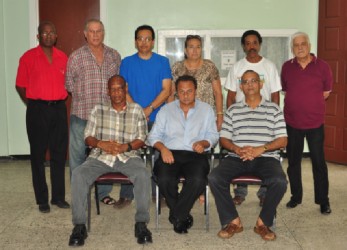 unopposed to the post he has held since 2007 while Andrew Thorne (Vice President), Francis Abraham (Secretary) and Clairmonte DeSouza (Treasurer) also were re-elected without opposition.
Two new members, Michael Fung (Marketing Manager) and Khalil Ahmed (Finance Controller) have also been elected to serve on the 10-member board.
According to Abdool: "Michael Fung was brought on to beef the board's marketing ability. We have lacked proper guidance concerning marketing and we hope we can work together to strengthen the board with his addition."
In his first speech yesterday Abdool also disclosed spoke of some improvements fight fans can look forward to from him and the returning executive.
"Primarily you will see a strengthening of the Guyana Fight Night card which has become the activity which everything else is pivoted; you will always see two to three good, strong, crowd-pleasing fights on each card.
"I am also hoping for better sponsorship participation, we will also be asking them to play a more crucial role which is more realistic with what  these fights actually costs, once that happens you will see a better package of boxing," Abdool declared
When quizzed on the board's financial status the GBBC head revealed that: "The cards can be better financed than they are at the moment, the board does not have enormous debt but what we want to do is to make sure that the Guyana Fight Night initiative is properly financed so that we can preserve its continuity, we don't want to have losses, our major difficulties have been twofold.
"One we have not able to box off cards outside of the Sports Hall because of the weather and two; despite all of our efforts we saw a reduction in attendance."
Despite the negatives, Abdool noted that the past year has been positive for the combatants in the ring.
"Guyana Fight Night has been a success so far for 2013 but I think at the end of the year if we have more international success with Clive Atwell and others it would be more than just a thought."
Abdool added: "For success, we look at how are we assisting amateur boxing, how are we developing the ranks with respect to fighters, are fighters coming through, are we able to move them to national positions and are we able to move them from national positions to regional ones and to the point for international titles and if that is happening those are points for success."
Anthony Hope from the Civil Defence Commission was the Returning Officer.
Around the Web