Cleveland Forde and Euleen Josiah-Tanner ran away with the male and female categories of the Neal and Massy Group of Companies Ainlim 10K road race which took place yesterday.
Initially scheduled to commence at 6am in front of the Guyana Bank for Trade and Industry (GBTI) Diamond Branch,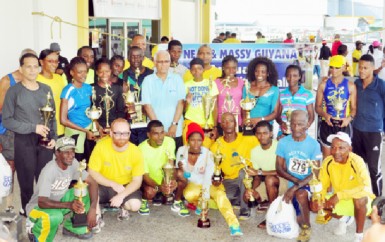 after a few debates the officials opted to start the event at the Guy Oil Gas Station and the race duly proceeded along the East Bank carriageway before ending in front of AINLIM.
Forde maintained his dominance in the men's Open category successfully defending his title in a time of 33:16 seconds with Cleveland Thomas who clocked 33.34s and Dennis Horatio, whose time was 34.05s second and third respectively.
Running Brave's Winston Messenger came fourth in 34:18 seconds while Police Progressive Youth Club's Nathaniel Giddings, who led the race before Forde took over finished fifth in 34:34 seconds. Giddings was last year's junior boys' champion.
Forde, in an invited comment told Stabroek Sport after the presentation ceremony that though the course was good the heat was intense.
Josiah-Tanner, the new Open women's champion, registered 39:21 seconds to dethrone defending champion Alika Morgan. Last year Josiah-Tanner was forced to drop out of the race with muscle cramps after leading the race.
Josiah-Tanner told Stabroek Sports that she was never pressured during the course of the race.
"I just ran with ease," she said.
She also advised that the race start earlier after complaining about the temperature. "…6:30am, that is too late to start a 10K," she noted.
Morgan settled for third place in a time of 40:52 seconds as CARIFTA Games double gold medalist Jevina Straker, who is known for her strong finish, sprinted past Morgan a few metres before the finish line to clock 40:51 seconds.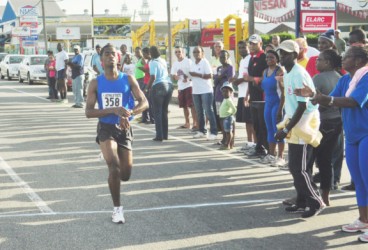 Straker, after running back-to-back races (Saturday at the Inter-Guiana Games trial) said the race was challenging but added that she was advised by her coach (no name mentioned) to gauge the athletes in front her.
"My downfall was holding in the race and today I guess was my lucky day," Straker said.
Guyana Defence Force athletes, Ashanti Scott and Carlissa Atkinson finished fourth and fifth in 45:12 seconds and 47:19 seconds respectively to round off the top five finishers in the Open women's category.
Carl McKenzie won the junior boys' category ahead of Grivon Grant, Kevin Nicholas, Samuel Kaitan and Joshua McKenzie in a time of 37:14 seconds.  Grant, Nicholas, Kaitan and McKenzie recorded 37:32, 37:35, 37:55 and 46:40 seconds respectively.
Andrea Foster, South American Junior Games selectee won the girls' junior category in 43:59 seconds after a bad day at the Inter-Guiana Games trials at the Eve Leary ground on Saturday.
Foster won ahead of Cassie Kirton who clocked 45:43 seconds and Adama Roberts, 46:56 seconds. Shantel Hinds and Toshawna Doris came fourth and fifth in 59:34 and 1:02 seconds respectively.
Sprinter Alisha Fortune won the women's masters event in 51:23 seconds ahead of Cyrleen Phillips and Denise Jeffery who finished second and third in 52:33 and 55:30 seconds.
Ian Archibald took the masters men 45-55 age group ahead of Linden Harrison (42:42 seconds) and Orin Josiah (47:43 seconds) in 39:32 seconds while Llewellyn Gardener, as expected, won the masters men 55 years and above category clocking 42:49 seconds with Ravi Purohit and Maurice Fagundes second and third in 47:48 seconds and 48:54 seconds respectively.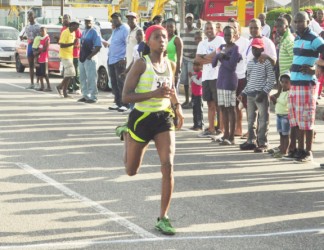 Deo Persaud, Chief Executive Officer (CEO) of Neal and Massy Group of Companies, said his company holds the community close to its heart and as  such felt it was important to play a part in having a healthier Guyana.
Persaud, in his remarks also congratulated the winners and participants of the annual event which he said will see a bigger edition next year. He also commended that Athletics Association of Guyana (AAG).
Aubrey Hutson, AAG president said the meet was injury free and thanked Neal and Massy Group of Companies for hosting yet another successful event.
The road race which was coordinated by the AAG was much more organized than Saturday's Inter-Guiana Games (IGG) trials despite a late start and a malfunctioning electronic time clock which was transported in a four-wheel Toyota pick-up truck with media personnel.
Around the Web