Team Guyana with eight medals ended the just concluded Caribbean Regional Badminton Confederation junior championships held in San Juan, Puerto Rico in fourth place.
According to a release from new secretary of CRAEBACO, Guyana's Gokarn Ramdhani, the Guyana team ended with two gold,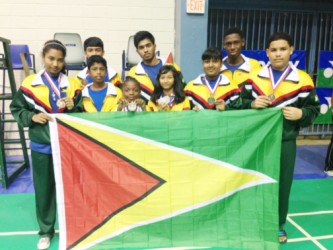 two silver and four bronze medals at the September 8-15 championships.
Guyana gained the two gold medals through Priyanna Ramdhani and Abosaide Cadogan who won gold in the girls U13 singles and U11 doubles respectively.
The 11-year-old Ramdhani crushed Jamaican Shezelle McTyson in straight sets 21-11, 21-13 to medal in her fifth straight Caribbean Championships and is more than likely expected to dominate next year as well while
Cadogan proved to be a fast rising star when she partnered with Suriname's Erisa Bleau to win the U11 girls doubles final with a straight games 21-17, 21-11 win over
Ramdhani also collected silver medals in the U13 mixed doubles and U15 girls doubles while Narayan Ramdhani and Jonathan Mangra won bronze medals in the boys U17 doubles. The other two bronze medals were won by
Nadine Jairam and Meshonn Persaud in the girls' U17 doubles.
Around the Web