Haslyn Hooper scored 19 points to lead Melanie to an upset 69-62 points win over Wortmanville/Werk-en-Rust Saturday night at the Cliff Anderson Sports Hall in a match of the Mackeson-sponored Trinity Grid Holdings Pacesetters basketball Club inter-ward tournament.
Hooper received assistance from Kurt English who scored 14 points which included nine consecutive free throw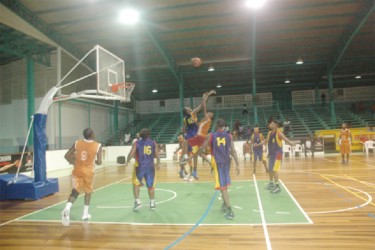 attempts and four assists while Sherlon Legall scored 13 points and grabbed 10 rebounds for the east Coast side.
Randy Richardson led the losers with 19 points and 20 rebounds while Naylon Loncke and Joslyn Crawford contributed 12 points and 10 rebounds and 10 points and six rebounds respectively.
Wortmanville/Werk-en-Rust began the opening period in a scrappy fashion as committing numerous turnovers while taking ill-advised shots and  Melanie quickly capitalised on their inconsistency through the stoutly built centre Hooper.
Dominating the paint, the imposing big man netted easy baskets to push his side into the early lead which saw the period ending 22-5.
The Georgetown side would fight back in the second period as they outscored the East Coast team 18-14.  Attacking the rim at both ends of the court, Richardson powered the offence registering seven points.
Veteran shooting guard Shawn Ellis would also make his presence felt as he scored all six of his points in the period through back to back three pointers to take Wortmanville/Werk-en-Rust into the half trailing 36-23.
The third period would see Richardson continuing his scoring prowess, netting five points as Wortmanville/Werk-en-Rust once again outscored Melanie in a low-scoring period 14-12.
A constant inside threat, Richardson continued to manoeuvre well inside the paint to score easy layups as they narrowed the lead to 11 points with the period finishing at 48-37.
The fixture would really come alive in the fourth period as Wortmanville/Werk-en-Rust outshot their opponents 25-21.  Loncke, who was quiet throughout proceedings combined well with Richardson to score a joint 15 points in the period.
Penetrating the lane with his assured footwork, Loncke registered eight points as he continuously got to the foul line. A fixture of the inside game, Richardson picked up a further seven points as the Georgetown side pulled within four with 47 seconds left.
The attempted comeback would be halted as English and Legall began to shoulder the offensive burden for the Melanie side. With Hooper waning as a scoring option, they began to attack the Wortmanville/Werk-en-Rust front court.
Legall netted seven points in the period including a powerful drive inside to finish with a right handed layup from a rebounded missed attempt.
Not to be outdone, English would register nine points in the period as he converted nine consecutive clutch free throw attempts to clinch a hard fought win for his side.
Defending champions Albouystown/Charlestown blew out Buxton in their group 'C' matchup fixture 60-39. Sheldon Thomas led all scorers with 21 points, five rebounds and three steals while Collis Pluck netted 14 points in the win.
Ewart Smith led the Buxtonians with 13 points, six rebounds and one block.
Around the Web