Despite only two top-10 finishes by the five national riders that competed in Suriname's Bigi Bergi four-stage Road race last weekend, team manager Brian Allen was pleased with their performances but stated that more work must be done ahead of the Caribbean Cycling Championships.
"Regardless of their spaces I am totally satisfied because the level of the competition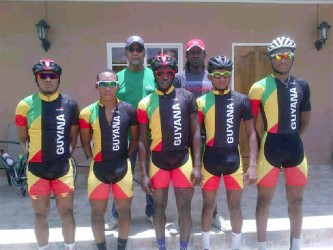 was of a very high standard," said Allen of the five-man unit yesterday.
"They rode to their best of their abilities despite some niggles. However, we need to up the ante for the Caribbean Championships in Curacao next month we went there to test our fitness for that Championships and we are not quite where we want to be but hopefully we will be there in October," Allen added.
National senior and junior road race champions, Raynauth Jeffrey (sixth overall) and Michael Anthony (10th overall) were the two top-10 finishers for the national team while last year's road race champion, Orville Hinds and star cyclist Alanzo Greaves placed 21st and 24th respectively.
The fifth rider, Enzo Matthews, who fulfilled his role as a domestique dropped out with 10km to go in the final stage.
Top veteran local rider, Godfrey Pollydore finished fourth overall in the event which was won by French Guiana's Eric Vincent.
In excess of 60 riders from Holland, Suriname, French Guiana and Curacao competed in the grueling 220-mile annual event.
Around the Web