Guyana national hockey coach Philip Fernandes stated that while the team will be entering the upcoming Pan American Hockey Federation (PAHF) Cup as underdogs, he is hopeful that the team can be victorious against the lower level nations.
The tourney, which is being held in Mendoza, Argentina from September 21-28, will feature the top eight nations from the 26-member Pan American Federation.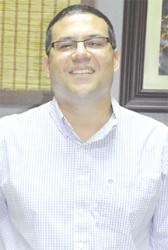 The competing countries and their rank are Argentina (1), Canada (4), Trinidad and Tobago (5), United States of America (USA) (2), Mexico (6), Uruguay (7), Guyana (8) and Chile (3). Guyana has been paired with Argentina, Canada and Trinidad and Tobago in Pool 'A'.
Fernandes, who is the Guyana Hockey Board (GHB) president during an exclusive interview said:"We are unlikely to be able to create any upsets against world number-two ranked Argentina and the other top nations such as USA, Canada and Chile.
"Our battle will therefore be among the second tier of nations, being ourselves, Uruguay, Mexico and Trinidad and Tobago. We are hopeful, however, that Guyana can be successful against some of these nations and continue to rise in its global rankings," noted Fernandes.
He added that while the… "unusual weather patterns kept us off the field for a large chunk of vital training months, preparation for the event had been progressing well specifically with regards to the commitment of the team."
According to Fernandes, the criteria that was be used to select the team was be based on several factors inclusive of attendance, commitment and effort during training sessions and physical conditioning and performances during practice matches.
"There are four players currently overseas who are included in the squad.  We do not have the funds to bring players back for trials in Guyana and so their selection is largely based on past performance.
"Our Captain Chantelle Fernandes has just completed a hockey scholarship in the United Kingdom and continues to play club hockey over there.
Goalkeeper Alysa Xavier and defender Marzana Fiedtkou are both on hockey scholarships at universities in the USA because of their recognized hockey-playing ability. Our fourth player, Leigh Sandison initially made our team on her past record where she has played hockey at a top level for quite a number of years," said Fernandes.
The Guyana will depart these shores tomorrow. They will open their campaign against Canada on Saturday at Estadio Malvinas. In their second encounter on Sunday Guyana will oppose Trinidad and Tobago.
In their final group match, Guyana will face off with home side Argentina on Tuesday. The winner of the tourney will qualify for the 2014 Women's World Cup in Netherlands while the top six finishers will qualify for the 2017 Women's Pan American Cup.
Teams that finish in the seventh and eighth positions will play in the 2015 Women's Pan American Challenge.
Around the Web