Defending champions Demerara will today select the final 14-man team to participate in the 2013 Pepsi senior inter-county limited overs  tournament commencing Saturday 21 at Bourda.
The team will be selected following the completion of today's 50-overs-a-side game between the 24 remaining players in the squad at the
Everest Cricket Club ground.
The Demerara players yesterday completed two days of training at the Demerara Cricket Club (DCC) ground with an afternoon filled with net session which was used to fine tune the players ahead of today's encounter.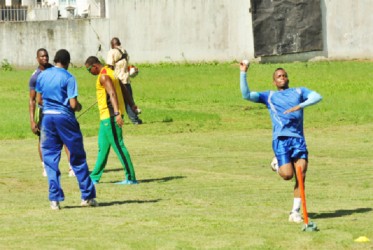 The batsmen spent some time in the nets as they sought to get their feet moving while the Demerara fast men hit their straps bowling to a single stump.
The two wicket-keepers in the mix vying for a spot in the final team,  Derwin Christian and young left-hander Kemol Savory displayed some good glove-work and kept sharply during their wicketkeeping exercises.
Catching, which is a vital aspect of winning games, was a key part in yesterday's training session. The cricketers were drilled on aerial catching and were rewarded with five push-ups if a catch was put down. Ground fielding which is another crucial area in the game was carried out with the use of a Katchet Board, which deflects the thrown ball to a fielder.
Coach Orin Bailey during a brief interview with Stabroek Sport said that he was so far pleased with all of the players and hoped that today's match ensured the best players are selected.
The match commences at 9:30hrs.
Around the Web