ST. JOHN'S, Antigua, CMC- Former West Indies fast bowler Curtly Ambrose is accusing cricket officials in the Leeward Islands of ignoring his request to work with players in the sub region.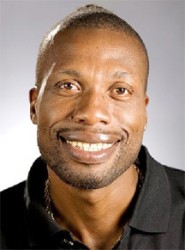 Ambrose was responding for the first time to criticisms over his decision to work with Combined Campuses & Colleges (CCC), a first-class cricket team based in Barbados.
The former right arm pacer says he has never been asked by the Antigua and Barbuda Cricket Association (ABCA) to work with the national team despite stating his desire to do so.
"For me, I can't just walk into a camp and decide to just take over the coaching," said Ambrose.
"I have always said for 13 years since I stopped playing cricket, or even before that, that when I finished, I would really like to get involved with helping Antigua cricketers to get better and nothing was ever done".
The Antiguan who represented the West Indies between 1988 and 2000 and is one of the greatest bowlers in the history of the game said he has enjoyed his stint with CCC.
He has insisted that his services were not sought at the sub-regional level and that it was time to move on to more positive things.
"I have been to Leeward Islands camp here in Antigua; sat there and watched the guys doing their stuff and nobody ever once asked me for an opinion and I am not going to just jump into a man's camp and then be embarrassed," said Ambrose.
"From the very day I accepted that job, (with CCC) the whole of Antigua start make noise about 'oh, he sell out and he gone a CCC' and I said, 'but I have been here for 13 years".
Ambrose has played 98 Test matches and has taken 405 wickets at 20.99 runs apiece with his best bowling figures being eight for 45 against England in Barbados in 1990.
Around the Web