Guyana's multi-discipline sport team of 22 members departed these shores yesterday morning for the South American Youth Games which will be held in Peru from September 27-29.
The team which will compete at the inaugural Games in athletics, badminton, boxing, cycling, swimming, table-tennis and weightlifting, assembled at Olympic House, High Street, Kingston before leaving for the Dr Cheddi Jagan International Airport.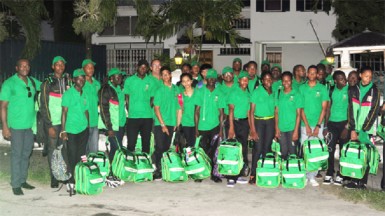 The team: Ambika Ramraj, Narayan Ramdhani (Badminton), Tefon Green, Joel Williamson, Michael April, Travis Fraser (Boxing), Michael Anthony, Akeem Arthur, Shaquel Agard, Alonzo Ambrose (Cycling).
Andrea Foster, Tirana Mitchell, Dequan Vancooteen, Jason Yaw (Athletics) Omar Adams, Hannibal Gaskin, Onika George (Swimming), Chelsea Edghill, Shemar Britton (Table-Tennis), Shariah Melville, Denoila Bristol and Darren Williams (Weightlifting).
Green (junior flyweight), April (flyweight), Williamson (bantamweight) Fraser (light middleweight) as well as Bristol (53kg), Melville (+63kg) and Williams (77kg).
Franklin Wilson, Kaieteur News Sport Reporter was selected as the journalist to cover the Games. Dr. Karen Pilgrim is the Chef de Mission of the team.
The Guyanese athletes expected to perform well. The team is due to arrive today in Peru.
Around the Web