All-rounder Christopher Barnwell was yesterday named captain of the Demerara team ahead of this weekend's Pepsi Senior Inter-County competition which bowls off on Saturday at the Georgetown Cricket Club (GCC) ground, Bourda.
After three days of vigorous training and fitness sessions, the Demerara  selectors scouted the basket of 24 originally selected players and further reduced them to 20 players, six of which form the stand-by squad. The remaining 14 will make up the starting team.
The Demerara Cricket Club (DCC) right-handed batsman Barnwell, will have another experienced all-rounder in Steven Jacobs as his deputy. Players such as Trevon Griffith, Andrew Lyght Jr., Robin Bacchus, Shemroy Barrington, Paul Wintz, Derwin Christian and a few other first-class stars make up a dangerous Demerara squad.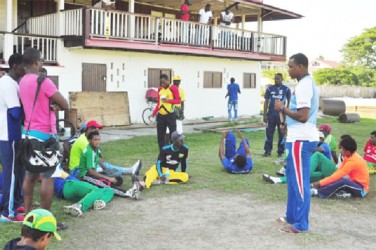 Senior batsman Ramnaresh Sarwan, who has been resting since the conclusion of the Caribbean premier League (CPL), was not named in the squad while veteran West Indies/Guyana batsman Shivnarine Chanderpaul was also not included as he is currently fulfilling his duties in England for his club Derbyshire.
The players began their sessions Monday with beep tests, cardiovascular exercises, followed by a batting session in the afternoon. Tuesday and yesterday they focused more on the technical aspects of the game with  intense batting, bowling and fielding sessions carried out at the DCC ground.
Newly elected skipper Barnwell, after the announcement of his appointment and his new teammates, encouraged all players to continue working hard.
He congratulated the players who made the final cut and encouraged the players who were not selected to continue training and hoped that the stand by players will continue to "come out and play their part."
Demerara will now seek to fine tune their players and get all technical and mental issues rectified before their first game on Saturday, when they face off against Essequibo at Bourda.
Demerara Squad: Christopher Barnwell (Captain), Steven Jacobs (Vice-Captain),Trevon Griffith, Robin Bacchus, Andrew Lyght Jr, Rajendra Chandrika, Shemroy Barrington, Derwin Christian, Zaheer Mohamed, Amir Khan, Andre Stoll, Paul Wintz, Kellon Carmichael and Shaquille Williams
The Standbys: Kemol Savory, Tagenarine Chanderpaul, Dennis Legay, Yatesh Dhanpaul, Seon Daniels and Raj Nannan
The Coach is Orin Bailey and team Manager is Robert "Pacer" Adonis
Around the Web