TEXAS, United States, CMC-Jamaican 400 metres hurdler Melaine Walker will be inducted into the University of Texas Women's Athletics Hall of Honour, UT officials have announced.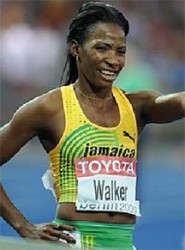 Walker, the Olympic and World champion over the 400-metre hurdles, will be among five former University of Texas (UT) student-athletes and one athletics staffer who will be inducted in November.
The second fastest woman of all time in the 400-metre hurdles and the three-time National Collegiate Athletics Association (NCAA) champion, Walker also led UT to a pair of NCAA team titles.
The 2008 Olympic champion is also one of the top hurdlers in Texas track and field programme history.
Walker, a former member of Jamaica's MVP Track Club now trains with the Racers Track Club and is exploring her ambitions as a sprinter and sprint hurdler.
Around the Web