After 54 events, Allen House leads the Bishops' High School (BHS) Inter-House Annual School's Track and Field event with 486 points, leaving both Wearn House and Baskett House in its wake when the games were held at the Eve Leary sports Club ground yesterday.
Wearn House is in second place with 469 points; Baskett House is in the third spot with 456 points while Vyfhuis House trails behind by 50 points and Dewar House brings up the rear with 387 points.
Vyfhuis House star athlete Onica Rose easily won a sprint double in the girls under-18 100m and 200m ahead of Lotoya Garraway and Chaukima Peters. No stranger to athletics, Rose pulled ahead of her opponents in the 200m and jogged across the finish line, leaving Garraway and Natasha Locke to battle, with the former coming in second and Locke trailing behind.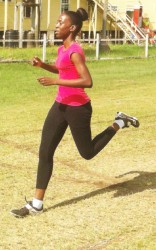 Darrin Patterson, Tyrese Souvenir, Michael Morrison and Taitan Tiatum also won sprint doubles in their respective age group categories. Patterson claimed the boys under-12 100m ahead of Davin Hinds and Akeem Ally and the boys under-12 200m ahead of Kesnel Johnson and again, Ally.
Souvenir, who entertained the spectators with flick stunts after winning his races, sprinted off with the boys under-14 100m and 200m ahead of Shawn Maxwell and Michael Williams and Zenell Marks and again Williams, respectively.
Morrison beat Nenville Williams and Daniel Swan in the boys under-16 100m before returning later to defeat Jeremiah Duncan and Nenville Williams for a second time.
Tiatum ran away with two easy sprint races, beating Orin Wilson and Dennis Glasgow who finished second and third respectively,  in the boys under-20 100m. The 200m was much easier for Tiatum crossed the finish line unchallenged, leaving Wilson and Leon Miller in his wake. The duo came in second and third, respectively.
The remaining field events continue today at the school.
Around the Web