The Athletics Association of Guyana (AAG) is yet to shortlist a team of athletes to represent Guyana for the upcoming Inter-Guiana Games (IGG) which is planned for October 17-21 in Suriname.
AAG President Aubrey Hutson said a committee meeting will be held before tomorrow to select the official team of 26 athletes to participate in the tri-nation event.
At the trials held last Saturday at the Police Sports Club ground, Eve Leary, Alita Moore, Kevin Abbensetts, Jevina Straker, Jevina Sampson, Tirana Mitchell, Kevin Garraway, Cassey George and Parish Cadogan dominated in their respective events.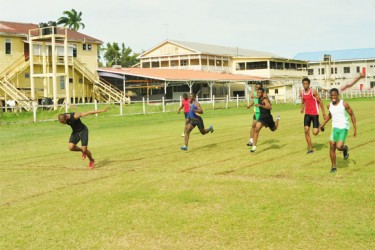 However, this newspaper understands that Guyana's top junior sprinter, Tevin Garraway will not be a part of the national team as he is still battling a lingering injury after pulling his hamstring during the 100m final at the National Schools Track and Field Championship last  November. Garraway, who returned to the track in March this year after a four-month hiatus following the championships, finished second in the boys 100m final.
Spectators at that event saw the Police Progressive Youth Club (PPYC) athlete blasting off the starting line ahead of his opponents when about five metres from the finish he leapt into the air in pain before hobbling across the line. He finished second to Kevin Abbensetts who won in 10.6s.
In a brief interview, PPYC Head Coach Lyndon Wilson said a decision had been made to withdraw Garraway from the IGG to allow him to complete the healing process. Garraway "has been withdrawn from the competition (IGG) and will not be competing in any Games for the remainder of the year," he said. He is currently undergoing physiotherapy at the Georgetown hospital.
Around the Web