Guyana's senior undisputed female distance runner, Euleen Josiah-Tanner is all ready for tomorrow's Courts 10k road race which is expected to get under official order at 6am sharp in front of Courts' Main Street location.
The United States of America-based athlete is the defending Courts 10k female champion and is well prepared to defend her throne against her opponents as the company, who is celebrating their 20th anniversary, hosts the prestigious event.
Josiah-Tanner, a mother of two was seen by Stabroek Sport during the course of the week doing long runs during the afternoons as preparation for the race which many athletes are looking forward to.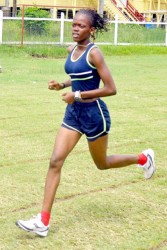 Josiah-Tanner told Stabroek Sport that she was confident and added that she is always pleased to compete at home.
The 38-year-old athlete of the Police Progressive Youth Club ran undefeated in all of her 10k races in the US and indicated that with the strength of God she will be looking forward to conclude the season with a bang in both the Courts and South American 10k races.
Josiah-Tanner, the new AinLim 10k open female champion only challenging competitor for the Courts 10k will be CARIFTA Games double-time 1500m gold medalist Jevina Straker as CARICOM 10k runner-up (2013) Alika Morgan will be absence for the race.
Morgan, who was dethroned by Josiah-Tanner at last Sunday's AinLim 10k, will compete in Indonesia in the women's 1500m and 3000m at the Islamic Games  which Guyana has been invited to. London Olympian Winston George will also represent Guyana in the sprint events.
At last Sunday's race, Josiah-Tanner clocked 39:21 seconds to win event. Josiah-Tanner , who is hoping that the scheduled 6am start for the Courts 10k is adhered to disclosed that her AinLim 10k race was not challenging as expected.
Straker, of the Running Brave Athletics Club registered 40:51 seconds ahead of Morgan's 40:52s to take the runner-up position with an impressive finish.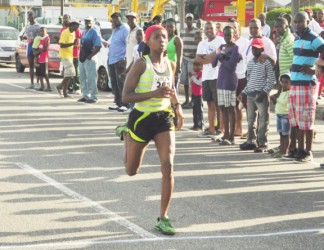 Last year Josiah-Tanner posted 39:53s to defeat Morgan's 40:58s and Ashanti Scott's 41:55s in the Courts 10k.
Distance king, Cleveland Forde is expected to retain his Courts 10k title after easily winning the AinLim 10k ahead of other top athletes like Dennis Horatio, Cleveland Thomas, Nathaniel Giddings, Winston Missenger and Kevin Bayley.
Forde won last year's event in 32:10s with Horatio coming second in 32:56s and Thomas third in 33:10s. Trinidad and Tobago-based Guyanese, Kelvin Johnson was fourth in 34:17s while AinLim's 10k fourth place finisher clocked 34:21s to secure fifth place.
Meanwhile, the anticipated race will have five categories: Junior (age 16-19); Senior (Men 20-34) and (Women 20-39); Masters (Women 35 and over); Masters (Men 40-54) and Masters (Men 56 and over).
Top finishers in the race will also receive cash incentives along with trophies. Also on board with the annual event is Banks DIH. The company under their Powerade and Aqua Mist brands will replenish the athletes during the course and after the race.
Up for grabs in the senior male and female categories is $100,000 for the winners. The second, third, forth and fifth place finishers will win $80,000, $60,000, $40,000 and $20,000 respectively.
A top prize of $60,000 will be awarded to the first place male and female junior athletes will win $60,000 while second, third, fourth and fifth gets $40,000, $30,000, $20,000 and $10,000 respectively.
The Masters women 35 and above and men 40-54 prize monies are $60,000 (first), $40,000 (second) and $25,000 (third) while the Masters Men 56 and above pockets $40,000, $25,000 and $15,000 for first through third.
The race will start in front of Courts, Main Street, proceed North to the Seawall Road, east along the Seawall Road, continue east along Rupert Craig Highway northern carriageway to turn at Church Road, Rupert Craig Highway southern carriageway into Kitty Public Road, South on Vlissingen road, west on Lamaha Street, south on the eastern carriageway on Main Street, turn around at the Cenotaph to finish on the western carriageway of Main Street in front of Courts.
Around the Web