National Junior Road race champion, Michael Anthony proved yesterday that he can not only compete with the seniors but he can also beat them.
On a hot, windy day at the National Park, the 17-year-old Team Coco rider, scorched a star-studded field, sprinting away with top honours in the feature 35-lap event of the second annual RRT Enterprise 11-race programme.
The talented cyclist, who earned a gold medal at last year's Junior Caribbean Cycling Championships, powered to victory in one hour, 17 minutes and 18 seconds. He also carted off a sprint prize.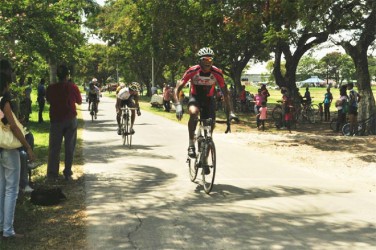 Anthony led Junior Sportsman of the Year, Paul DeNobrega and national rider, Robin Persaud onto the podium.
Linden Bauxite Flyers', Rastaff O'Selmo, top veteran, Stephan Fernandes and national cyclist, Enzo Matthews completed the top six.
O'Selmo also pocketed three sprint prizes while one apiece went to DeNobrega, Persaud, Fernandes and Warren' 40' McKay.
The feature race started off at a brisk pace with McKay taking the first sprint prize in the sixth lap. However, Anthony, DeNobrega, Persaud, O'Selmo and Fernandes separated themselves from the rest of the 23 starters and never looked back.
The five riders rode as a unit and held off a valiant chase from  Matthews, Paul Choo-Wee-Nam, Raymond 'Steely' Newton and Alex Mendes.
With 300 metres to go from the finish however, team work was thrown out the window and Anthony pounced on the other four leaders.
Persaud and DeNobrega rose from their saddles in pursuit but the teen held on to earn a cycle length victory.
Anthony, who was in sublime form yesterday, also rode off with the juniors and juveniles' 10-lap, first place trophy and both sprint prizes in 22 minutes and 54 seconds besting Hamzah Eastman and Silvio Inniss in the process.
Before the feature event, Team Coco's, Junior Niles rode off with the veterans' under-50, five–lap, first place trophy and the prime prize beating arch rivals Kennard Lovell and Shurland Sue Hang who were second and third respectively.
Rawle Small won the BMX boy's 12-to-14 years, three-lap race ahead of Deeraj Gharbarran and Seon Thegg respectively while Rashedi Ceres took top honours in the BMX boy's nine-to-12 years, two-lap race ahead of Stephan Wilkinson and Tariq Khan respectively.
Adrian Sharma took top honours in the three-lap BMX boys Open race ahead of Daniel Fraser and Keon Rutherford.
In the 12-to-14-years boys and girls' three-lap race, Raphael Leung took home the winner's trophy and sprint prize while Toshwanna Doris and Nigel Duguid occupied the next to positions.  In the five-lap veterans' over-50 race, Linden Blackman was first followed by Virgil Jones and Neville Atwell.
Monty Parris won the veterans' over-60 year's race ahead of Maurice Fagundes and Neville Atwell.
The race for the mountain bikers was won by Richard Charles who also took the prime prize.
Ozia McAlley and Clyde Jacobs placed second and third respectively.
The two-lap BMX boy's six-to-nine year's race was won by Sherwin Sampson while Jeremiah Harrison and five-year old  Alex Leung, pedaled in second and third in that order.
Yesterday's event was organized by National Cycling Coach Hassan Mohamed. At the prize giving ceremony Mohamed thanked the representatives of RRT Enterprise for sponsoring the event and the cyclists for participating in the meet and making the programme a success.
Managing Director of the Regent Street entity, Sean Ramrattan handed out the prime prizes as well as the trophies to the winners and the runners-up of the races.
Ramrattan, in brief remarks, also congratulated all the cyclists for their participation and pledged his company's continued support for future cycling events and sport in general. He also mentioned that he was pleased with this year's turn out which trumped last year's programme.
Last year's winning time by Persaud was one hour, 18 minutes and 17 seconds.
The cyclists will now take their talents to the West Demerara today, to compete in the third annual Banks Malts Non-Alcoholic Beverages 50-mile road race which pedals off at 08:00hrs from the Wales Police Station
Around the Web