Riddim Squad dismantled Fruta Conquerors 4-2 when action in the Guyana Football Federation (GFF) Premier League Georgetown playoffs continued at the Tucville Community Centre ground on Friday.
Amos Ramsay led the Mocha-based side with a second half double in the 55th and 88th minutes while Teon Jones and Sheldon Gourick netted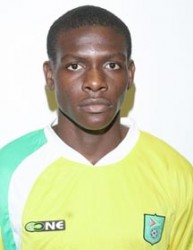 in the 23rd and 87th minutes respectively. On target for the home side were Eon Alleyne and Jermaine Junior in the 48th and 90th minutes correspondingly.
In a half littered with broken plays, Jones opened the scoring as he sprung the Conqueror's offside trap to chest control a well-placed lobbed pass before beating the onrushing custodian with a right footed strike with the outside of his laces.
The home side would level proceedings three minutes into the second period in a fortuitous fashion.
Receiving a free kick just outside the 18th yard box following an infringement, Alleyne's right footed effort would take a wicked deflection, sending the goalkeeper the wrong direction and nestling into the right side of the net.
However, Ramsay would push Riddim Squad back into the lead six minutes later. Cutting onto his favoured left foot just outside the right side the penalty area, the wily winger unleashed a curling effort that inexplicably went through the hands of the Tucville custodian.
Gourick then extended the Riddim Squad's lead as he stole possession of the ball from a defender following a lobbed cross from the right side of the field, before placing his right footed effort to the bottom of the net from just outside the left side of the six yard box.
The completion of Ramsay's double two minutes before the end of regulation time would be the highlight of the evening.
Intercepting a pass in the midfield quarters, Ramsay powered his way through the centre of defence, evading his marker before striking a powerful flat left footed effort that crashed into the bottom right hand corner of the goal.
A failure to gather and eventually clear an Alleyne left side cross by the Mocha custodian would lead to Junior penning his name on the scorer's sheet.
With the goal at his mercy and the ball falling into his path unmarked outside the right side of the box, Junior thumped his right footed effort into the open net to restore some form of pride to the score line.
Victorious coach Lloyd Millington in an invited comment said:"We made a few mistakes that Conquerors didn't capitalise on. However, I thought they lost the game in the midfield area even though their strikers were really running at us."
In the second matchup, Campbellville based side Camptown FC and Pele FC played to a tame nil-all draw.
Around the Web