LONDON, UK, CMC – Former West Indies pacer Corey Collymore will be leaving Middlesex after the cricket club announced on Saturday that he will not be offered a new contract.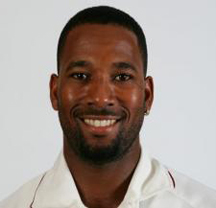 Collymore has spent the past three seasons playing for Middlesex CCC, during which he took 96 wickets and helped the club win the second Division title in 2011.
In 33 first-class appearances for the club the 35-year-old took 86 wickets at an average of 29.03.
Middlesex CCC's Managing Director of Cricket Angus Fraser said Collymore was being released to give the club's young fast bowlers a chance of first-team cricket.
"It is not a coincidence that Corey's three years at Middlesex CCC came during a period when the club has made considerable progress. He is a wonderful pro and an exceptional man. He is proud, honest, hard working and has set a wonderful example to our young and seasoned cricketers. I have thoroughly enjoyed working with him," he said.
"At Middlesex CCC we are fortunate enough to have a number of talented young fast bowlers who need to be pushing for first-class cricket. The challenge for them is to seamlessly fill the hole created by Corey's departure.
Like Middlesex's previous Barbadian cricketers – Wayne Daniel, Desmond Haynes, Roland Butcher and Pedro Collins, Corey will always be welcome at Lord's."
Collymore played 30 Tests for the West Indies between 1999-2007 and also had stints with county sides Warwickshire and Sussex.
Around the Web