Cleveland Forde and Euleen Josiah-Tanner yesterday won the men and women's categories at the annual Courts 10k road race.
Forde of the Guyana Defence Force (GDF) won in 33:02s while United States of America-based Josiah-Tanner clocked 38:57s.
The two athletes both bettered their times from last Sunday's AinLim 10k which they also won.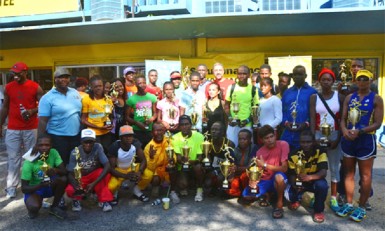 The race, which started just  five minutes behind schedule (6am) saw three Police Progressive Youth Club athletes, Nathaniel Giddings, Dennis Horatio and Kevin Bayley and three Running Brave athletes Winston Missenger, Cleveland Thomas and Devon Barrington along with GDF's Tyson Bentinck setting an early pace.
Forde, however, soon closed in the gap followed by Trinidad and Tobago based Guyanese Lionel D'Andrade before Thomas and Giddings extended the lead after passing the 2k mark moving away from Bayley, Barrington, D'Andrade, Horatio and Forde.
Shortly afterwards Bayley dropped out of the race but the swift pace of the event continued and the leaders continued to set the pace  while  Forde smartly evaded the seawall breeze by tucking in behind Horatio, Barrington, Missenger and D'Andrade.
Forde, up on approaching the 5k mark increased his pace and joined the duo of Thomas and Giddings who led until Forde shifted gears around the 7k mark. With rapid turn over Forde soon separated himself from the duo metres before the 8k mark.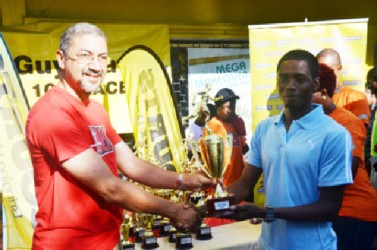 Attempts were made by Giddings and Thomas to pursue Forde but both were unsuccessful as he proceeded to the finish line in front of Courts, Main Street.
Thomas moved away from Giddings to finish second in a new personal best time of 33:16s while Giddings clocked 33:19 seconds ahead of Missenger and Horatio who came fourth and fifth respectively in 34:09s and 34:59s.
D'Andrade was unable for a second time to finish in the top five after being edged out by Missenger last year.
"I did run a bit more than last Sunday's AinLim 10k race but I just tucked in behind the guys to cut the wind and when I took the turn (around the 5k) I just run," Forde told Stabroek Sports after the race.
Running a well-executed race, Forde disclosed that he has much more work to put in for the South American 10k.
"I will definitely need to do some more training for the South American," he revealed.
Josiah-Tanner with little or no competition in the women's category finished first ahead of CARIFTA Games triple-time gold medalist Jevina Straker of Running Brave who clocked 43:07s, a slower time than last Sunday's AinLim 10k performance.
Ashanti Scott and Carlisa Atkinson of the Guyana Defence Force came third and fourth respectively while Shion Boyer secured fifth place.
Upcoming junior athlete Cassie Kirton topped the junior girls' category clocking 43:54s to finish ahead of Abdemi Roberts (45:11s), Shontel Hinds (54:38s) and Mearisha Carter (1:09.09s).
In the junior boys' category, Grivon Grant won in 36:07s as Samuel Kaitan settled for second place in 36:26s. Kevin Nicholas, Carl McKenzie and Leon Nick finished third, fourth and fifth in 36:43s, 36:46s and 39:20s respectively.
Cyrleen Phillips won the women Masters category in 50:29s ahead of Denise Jeffery 55:19s and Simone Baburam 57:14s. Carla Benjamin and Lorrie Ann Adams were fourth and fifth in 1:00.5s and 1:04.6s respectively.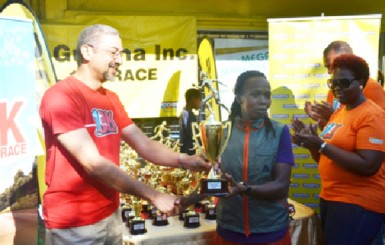 Ian Archibald ran away with the Masters 45-50 age group in 38:17s leaving Errol Warde and Lindon Harrison in second and third in 42:22s and 43:22s. Silas Brummell (44:48s) and Orin Josiah (44:51s) were the other two top finishers.
The 55 years and above Masters saw Llewellyn Gardener dominating in 41:19s ahead of Maurice Fagundes (47:47s) and Debidyal Harald (56:19s). Ivelaw Henry and George Norton came fourth and fifth in 58:19s and 58:24s respectively.
Meanwhile, Clyde De Haas Managing Director of Courts who congratulated the winners and competitors of the Courts 10k at the presentation ceremony said he was happy that the event was successful.
Dias also expressed gratitude to the AAG for having an organized race before thanking his staff and supporters.
Athletics Association of Guyana (AAG) President, Aubrey Hutson in his remarks thanked the furniture giants for collaborating with association to host the event.
The event was also sponsored by Banks DIH who replenished the athletes with their Aqua Mist Water and Powerade brands.
Around the Web