In an extraordinary display of speed, power and stamina, national road race champion, Raynauth Jeffrey emerged winner of yesterday's Powerade 50-mile road race at West Demerara.
Jeffrey, 19, winner of eight races this season stopped the clock at one hour, 51 minutes and two-seconds carting off half of the eight sprint prizes in the process.
The Team Coco rider led fellow national cyclist, the inform Alanzo Greaves, winner of 13 races this season and defending champion Robin Persaud on to the podium in the grueling trek which pedaled off at Wales Police Station, continued to Bushy Park and ended at the Demerara Harbour Bridge.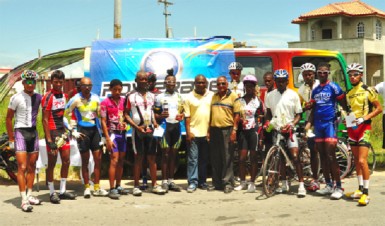 Junior Sportsman of the Year, Paul Denobrega placed fourth while last year's senior road race champion, Orville Hinds and Warren '40' McKay rounded out the top six.
Greaves, Persaud, McKay and top veteran, Godfrey Pollydore pocketed the remaining sprint prizes.
Talim Shaw, Everal Mundy and Kennard Lovell were the top three veterans while Junior Road race champion, Michael Anthony, Hamzah Eastman and Kravitz Jeffrey rode in first, second and third in the junior category. Ozia McAlley, Richard Charles and Julio Melville were the top three upright finishers in that order.
The race, which saw 50 riders including female prize winner Toshwanna Doris facing the starter's pistol started off at a fever pitch pace.
Most of the riders were still bunched together until Jeffrey led an eight-man break away at La Grange which included Greaves, Persaud, DeNobrega, Hinds, McKay, Pollydore and Marlon 'Fishy' Williams.
This unit rode in tandem and steadily increased their lead on the chase peloton.
Team work was however thrown out the window when a tireless Jeffrey broke away from the group at Meten-Meer-Zorg and finished nearly two minutes ahead of Greaves who powered ahead of Persaud in a thrilling sprint finish.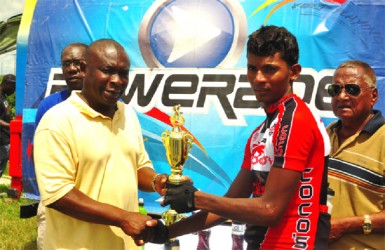 Organizer of the event, Hassan Mohamed, thanked the cyclists and Banks DIH's representative, Troy Peters for making the race a successful one. Peters, who distributed trophies and other prizes to the top performers, congratulated the cyclists and also stated that Mohamed can look forward to future sponsorship of Banks DIH Limited under Powerade and other brands.
Around the Web