The Guyana Defence Force (GDF) trio of  Clairmont Gibson, Eon Bancroft and Bert Braithwaite all recorded victories when the first 'Mackeson Fight Night' card boxed off Saturday night in Linden.
In one of the featured bouts of the night, Gibson and Kevin Ting-A-Kee put on an exciting, punch-filled, lightweight brawl that delivered a knock down punch to the hundreds that thronged to the Amelia Ward Bus Park.
After Ting-A-Kee floored Gibson in the opening round, he became the clear crowd favourite but the shorter Gibson rebounded from the canvas and used his superior speed and power to pound out the unanimous victory.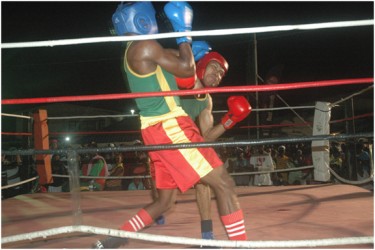 Gibson landed some bone breaking combinations while Ting-A-Kee continued to work his jab, which was his most effective weapon. However it was not enough to gain the judges' nod as Gibson punished an exhausted Ting-A-Kee in the latter half of the second and the entire third round.
In Bancroft's welterweight bout, he secured a lopsided decision against Clifton Graham after he had defeated Ron Smith in the first fight of the night.
In another action-packed fight, Braithwaite used his superior power to defeat Kelon King in their light welterweight contest.
Braithwaite landed more jabs and power punches to gain an unanimous verdict.
Stephan Gouveia was also in the winner's row, scoring a unanimous decision victory against Anandram Dharamraj on the judges' scorecards.
Aquincy Ageday won the other light welterweight bout after he forced Kurt Kendall to retire, following a first round brawl that floored both pugilists. Ageday, however, was more aggressive and eventually Kendall caved in for the night.
In other bouts on the card, Trevon King unanimously won against William Hendricks, who had points deducted for bull-rushing King in their middleweight duel; Marvin Ageday won the other fight in the category against Kevin Rodney also with a unanimous decision.
In the two junior fights of the night, Teo Bumbury secured a split decision against Muntehel Johnson while Joshua Corbin decisioned Kevon Mulling unanimously.
The inaugural round robin event will continue at the National Cultural Centre tarmac on Sunday and conclude at the New Amsterdam Stelling on October 5.
Winners of the lightweight, light welterweight, welterweight and middleweight divisions as well as the second and third place boxers will receive lucrative incentives.
Around the Web