Guyana's top juniors Gavin Lewis and Afruica Gentle recorded comprehensive victories last Sunday at the National Racquet Centre in the Courts-sponsored lawn tennis junior tournament.
According to press release from the Guyana Tennis Association, the top seed Lewis hammered Keshon Beaton 6-1, 6-0.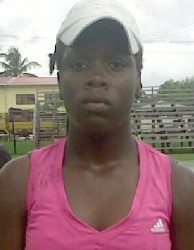 Beaton was no match for his opponent's speed, serving skill and powerful ground strokes.
Lewis, a senior on the Guyana circuit never trailed on any of his service games.
Lewis will take on powerhouse junior player Daniel Lopes who dismantled Craig Campbell 6-1,6-0 on Sunday.
Campbell, who is known for creating upsets, was put to the sword by the ever consistent Lopes.
This match up was expected to be one of the exciting encounters but Lopes quickly broke his opponent and never looked back as he quickly wrapped up both sets.
Meanwhile, the girls' final will be between the top two seeds Gentle and Nicola Ramdyhan who both qualified for the final in contrasting fashion. Gentle, who is only 12 years-old has been creating a buzz on the regional circuit. The talented Gentle pounded Johanna Ramsammy 6-0, 6-0 in a lopsided affair while Ramdyhan gained a walk over victory from Diana Bharat.
The final of the 18 and under division will take place this weekend at the National Racquet Center, Woolford Avenue.
Around the Web