The official signing on for clubs and associations that will be competing in the Guyana Football Federation (GFF) Premier League was held yesterday at the entity's Section K Campbellville headquarters.
GFF President Christopher Matthias during the feature address thanked the organizing committee headed by Collie Hercules for staging such a project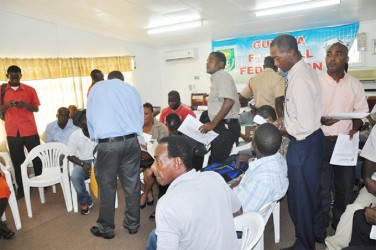 adding that he hopes that the tournament creates the avenue for the establishment of a brand of football that can be identifiable.
"While this is a working in progress, we are trying to create an environment for all clubs to be 'A' grade and premier league sides. This league format while somewhat different would be more conducive to football development while also taking into consideration the interest of spectators and sponsors," added Matthias.
Hercules, the GFF Vice President of Competitions, during brief remarks said:"The tournament came about because we were trying to see where we at and how we can improve. Tournaments are our biggest revenue generators and we wanted to come up with something that was exciting for both the fans and the sponsors.
"I wish all the teams and associations best of luck and look forward to seeing you at the launch of the tournament," added Hercules.
The event which is the brainchild of the federation's organizing committee and features 16 teams from the various associations competing in a one round league format, will commence on October 6 at the Mackenzie Sports club ground in Linden.
Each club will compete at every match day at various venues around the country. Three points will be awarded for a victory during normal time while one point will be awarded for a drawn score at the end of regulation time.
If a fixture is drawn at the end of regulation time, penalty kicks will be immediately taken to determine the winner. The winner of the penalty shootout will be awarded one point.
The competing teams are Santos FC, Alpha United, Guyana Defence Force (GDF), BK Western Tigers, Riddim Squad, Milerock, Silver Shattas, Winners Connections, BV/Triumph FC, Buxton United, Mahaica Determinators, Den Amstel, Young Achievers, Grove Hi-Tech, Rosignol United and New Amsterdam United.
The victorious side will receive $3,000,000, gold medals and the first place trophy while second and third place finishers will receive $2,000,000, silver medals and second trophy and $1,000,000, bronze medals and third place trophy respectively. The fourth place finishers will pocket $500,000 and a trophy.
Around the Web