The Petra Organization/Courts Pee Wee Football organized two day beginners coaching clinic came to a successful ending on Sunday at the Ministry of Education ground on Carifesta Avenue.
In collaboration with the Guyana Football Coaches Association (GFCA), the seminar witnessed 15 representatives of the competing 24 schools participating under the astute guidance of head coaches Wayne Dover and Sampson Gilbert.
Petra Co-director Troy Mendonca stated that the workshop was organised to improve the overall knowledge of the teachers that are tasked with preparing the schools for the event. He further stated that it this initiative is in keeping with the aim of fostering and nurturing development within the sport.
The topics that were covered in the two day programme are the role of the coaches and age related exercise, environment health and safety, practical warm up, practical fun games, nutrition and hydration, injury prevention and treatment and technical development.
Certificates of attendance were presented to the participants.
Present at the event's closing ceremony was Guyana Football Federation (GFF) Vice President of Technical and Tactical Development Ivan Persaud.
The tournament which was officially launched on September 11 at the Courts Main Street office will commence on Saturday with 24 schools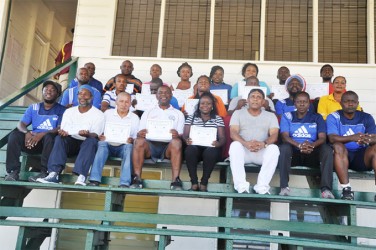 competing over a round-robin format.
Six groups of four will divide the 24 teams with the top two from each group advancing along with the four best third place finishers to the round of sixteen. Every playing date 12 fixtures will be contested and each match up with be 20 minutes in duration.
The competing schools are defending champions Marian Academy, St. Agnes Primary, West Ruimveldt Primary, St. Margaret's Primary, St. Sidwell's Primary, Tucville Primary, South Ruimveldt Primary, North Georgetown Primary, Ketley Primary, St. Gabriel's Primary. F.E. Pollard Primary, Enterprise Primary, St. Pius Primary, Sophia Primary, Success Primary, Redeemer Primary, New Guyana Primary, St. Angela's Primary, Stella Maris Primary, St. Winifred's Primary, Winfer Garden Primary, J.E. Burnham Primary, Green Acres Primary and East Ruimveldt Primary.
Around the Web