Maurice Solomon rolled back the years to win the Courts 20th Anniversary Golf tournament last weekend at the Lusignan Golf Club.
The veteran Solomon shot net 67 from gross 84 playing off 22 handicap to battle his way to victory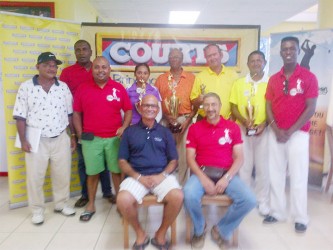 in the Anniversary Classic hosted by the local furniture giants.
There was a keen tussle for the second position with B. Harry (15 handicap) getting the better of Alfred Mentore (7 handicap) on a countback after both players shot 68 net.
Mentore, however secured a second prize when he won the Best Gross of 78.
Joaan Deo playing off 21 handicap recorded gross 91 for net 70 on her way to claiming fourth position.
Deo was also among the Courts winners last year.
Nearest to the Pin was William Walker.
Courts Managing Director Clyde DeHaas congratulated the winners and all the players who participated in the tournament.
He said Courts was extremely happy to be part of the development of golfing in Guyana.
He encouraged the Lusignan Golf Club to get more youths involved in the sport locally.
Courts Public Relations Officer Kester Abrams said that his Company has sponsored several major sporting events this year  to coincide with its 20th Anniversary celebrations being observed during September.
Around the Web