Guyana's national women's hockey team suffered its third consecutive defeat falling to tournament hosts and world number two Argentina 0-22 in their final group 'A' fixture when action in the Pan American Hockey Federation (PAHF) Cup continued in Mendoza on Tuesday.
Martina Cavalerro began the rout for the tournament's top seed with a hat trick in the second,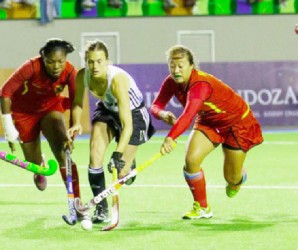 eighth and 16th minutes.
Argentina further increased their advantage as Daniela Sruoga 12th, 27th, Delfina Merino 17th, 30th, Carla Rebecchi sixth, 24th, Rosario Luchetti 21st and Noel Barrionuevo 35th minute found the back of the net as the first half ended 11-0.
The second period would prove to be more of the same as Luciana Aymar would then bag a quick fire helmet trick in the 45th, 47th, 51st and 61st minutes.
Further goals by Rebecchi 37th, 41st, Luchetti 48th, 63rd, Agustina Albertarrio 53rd, Silvina D'Elia 69th and Barrionuevo 70th minutes respectively completed the score line.
Guyana will now face seventh seeded Uruguay today in a battle of the bottom four teams in both groups to determine the respective finishers from fifth to eight.
Final Pool 'A' Standings
Team                                                                                                     GP        W        D        L         GF        GA        GD        P
Argentina                                                                                            3           3         0        0        40          0           40       9
Canada                                                                                                  3           2         0        1         13          6            7         6
Trinidad and Tobago                                                                      3           1          0        2         1           17        -16        3
Guyana                                                                                                 3           0          0        3        0           31        -31        0
Around the Web