GEORGETOWN, Guyana, CMC- Guyana is preparing to launch a pilot programme to integrate cricket into the school curriculum.
Education officials here are working with the West Indies Cricket Board (WICB) to roll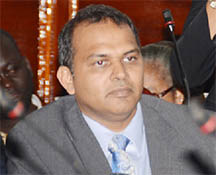 out the programme which involves incorporating cricket into academic studies such as Mathematics, English, Geography and other such subjects.
Sports Minister Dr. Frank Anthony says textbooks have already been developed and that the programme will be launched before year end.
He noted that, "this programme is going to be a very interesting one and Guyana is one of the pilot countries…before the end of the year we are hoping to launch this programme."
The schools for the programme were selected by a visiting WICB delegation to Guyana several months ago.
The government says it also plans to establish a cricket academy where persons can be trained by both local and international experts.
In an effort to regulate the game, the Government has tabled the Cricket Administration Bill, which is currently before a parliamentary select committee.
Around the Web