Amateur pugilists, Imran Khan and Dennis Thomas were scheduled to wing out to Kazakhstan this morning on a month-long sojourn which encompasses a two-week training stint as well as competing for medals in the World Amateur Boxing Championships.
Khan (bantamweight) and Thomas (middleweight) will be subjected to high intensity training by some of the world's best trainers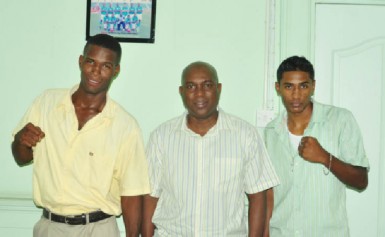 and nutritionists before competing at the championships which boxes off on October 14.
Alongside the Olympic boxing programme, it is the highest level of competition for the sport.
Both Khan and Thomas told Stabroek Sport yesterday that they will be putting their best foot forward.
"We have asked them to put their best foot and punches forward so that Guyana can be proud of them," said president of the Guyana Boxing Association (GBA), Steve Ninvalle yesterday.
Ninvalle and other members of the association also encouraged both boxers to be good ambassadors for the nation.
"I spoke to both boxers yesterday and underscored the importance of being good ambassadors for Guyana because of the fact they will be going without local supervision for the first two weeks."
Technical Director of the GBA, Terrence Poole will travel to Kazakhstan in two weeks to supervise the Simon Pures who are policemen.
The GBA head also heaped praises on the sports' governing body International Amateur Boxing Association (AIBA), for full sponsorship of the two boxers as well as the Guyana Police Force for providing per diem.
The World Amateur Boxing Championships will be the last event of its kind as amateur boxing takes a jump towards professionalism with the newly formed APB, the professional wing of AIBA.
Said Ninvalle, "This is something we as an association cannot afford so we are very happy that AIBA has considered two of our boxers, it tells us we are being looked at because some countries have no participants."
He continued "We have to also thank the police force and the police commissioner Mr (Leroy) Brumell who is a former amateur boxer himself, we want to say a special thank you because they will be providing per diem for these two policemen who are boxers."
The high intensity training stint is dubbed 'Road to Almaty' where the championships will be staged.
In excess of 50 nations will have representatives at representatives at the championships.
Khan, Thomas and Poole are scheduled to return on October 27.
Around the Web