The Demerara Cricket Board (DCB) on Thursday launched its inaugural over-40 T20 competition for sub-association teams affiliated to the DCB.
Eight teams from across Demerara will vie for honours.
The format will see two teams from each area (Georgetown, East Bank Demerara, East Coast Demerara and West Bank Demerara) playing each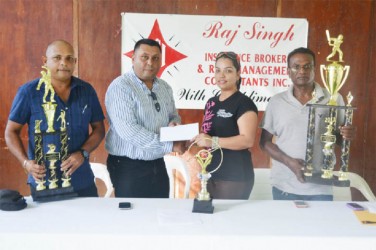 other once in the preliminary round which bowls off on October 25.
At the launching ceremony held at the Georgetown Cricket Club pavilion, president of the DCB, Raj Singh, said the competition is specifically geared towards bringing closure to the rancour and disunity that has permeated the smooth and efficient administration of the game in Demerara.
"We trust that all administrators would come on board with this bold gesture by the DCB aimed at fostering unity and cohesion amongst those said persons within Demerara as no one will be excluded," Singh said.
Matches will be played Fridays at 1.00pm for eight weeks and to make the games more interesting, each player except the wicket-keeper would be required to bowl two overs each.
The tournament is sponsored by Raj Singh Insurance Brokers and Trophy Stall.
The following persons from the various areas can be contacted for further information:Georgetown: Nazimul Drepaul – 615 8683 and S Atwell – 609 6976; East Bank Demerara: Johnny Azeez – 649 0243 and O Sandy – 685 3142; East Coast Demerara: Colin Europe – 611 6675 and Sheik Mohamed – 615 1900 and West Bank Demerara: Lalta Digamber – 623 9694 and K Mangal – 628 0484.
Around the Web