Medalists at this year's 41st Central American and Caribbean (CAC) Bodybuilding and Fitness Championships, Devon Davis, Kerwin Clarke and Alisha Fortune were commended for their podium worthy performances yesterday.
Davis, the Giftland Office Max's 'Man of Steel' posed and flexed his way to a gold medal once again in the flyweight category while Clarke, the reigning Mr. Guyana, copped a bronze medal in the welterweight (165lbs) division at the annual event which concluded on Sunday in the Dominican Republic.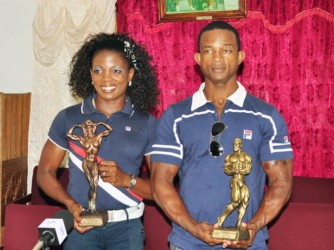 Fortune, who has won multiple local and international accolades, also completed the podium in the Women's Masters Category.
During a press briefing yesterday at the Guyana Olympic Association (GOA) headquarters, Davis, Clarke and Fortune were congratulated by the Guyana Amateur Bodybuilding Fitness Federation (GABBFF) for making the nation proud.
President of the GABBF, Keavon Bess, praised the three-member team, stating that their performances were "something all of Guyana can be proud of."
He also stated that the chiseled gladiators must be commended for "rising above the challenges" and doing extremely well in their respective categories.
Bess added that the discipline is not as established as others and therefore corporate support was difficult to garner but despite the financial constraints faced by the federation, everything was done to make their praiseworthy sojourn possible.
The GABBFF head as well as Fortune also called on the Minister of Sport and other stakeholders to play a more active role in support of bodybuilding since podium finishes are being achieved.
Some of the sponsors that supported the athletes include Fitness Express, Giftland Office Max, The Bank of Guyana and others.
Clarke was absent from yesterday's briefing.
Around the Web