Winner of the Antigua junior invitational competition Afruica Gentle will today throw down the gauntlet to the country's number one U18 player Nicola Ramdyhan in the final of the Guyana Tennis Association (GTA) Courts-sponsored girls' U18 category.
Gentle won the girls' 14 years and under title in Antigua earlier this year and her showdown with Ramdyhan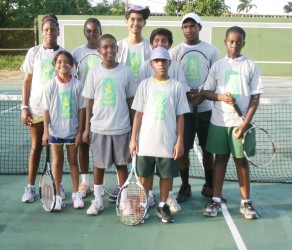 will be eagerly anticipated. It is one of several mouth watering matches on today as the country's top junior players swing into action today in what is expected to be an enthralling day of lawn tennis at the National Racquet Centre.
Apart from Ramdyhan and Gentle, Gavin Lewis and Daniel Lopes are among the players who would be in action today. Both Gentle and Ramdyhan reached the final by virtue of comprehensive wins against much weaker opponents.
Gentle blasted her way past Johanna Ramsammy 6-0, 6-0 in the semi-final.
But she will not find it that easy against Ramdyhan although this has not been the latter's best year evidenced by her recent first round loss.
The action will commence at 10am with Keshon Reece and the fast-improving 11 year-old Jordan Beaton clashing in the final of the boys' U14 division with the U18 girls' final expected to get underway at noon.
Long time friends and national team mates Gavin Lewis and Daniel Lopes will once again vie for a title with Lopes the more consistent player entering today's boys 18 and under final as the favorite on the back of recent comprehensive victories against opponents who are known to be tricky players, notably Craig Campbell whom he defeated in the semi-finals 6-1, 6-0.
Lewis, though, is no slouch and he will be coming into today's match looking for the coveted trophy. He too had an impressive win in his semi-final encounter, when he took out Keshon Reece 6-1, 6-0. That final is expected to get underway at 2.30pm.
The closing ceremony will commence at 16:30hrs.
Around the Web