A virtuoso Sheldon Thomas performance piloted defending champions Albouystown/Charlestown to an 80-56 blowout win over Werk-en-Rust/Wortmanville when game one of the Mackeson Trinity Grid Holdings (TGH) Pacesetters Basketball Club inter-ward best of three finals began on Friday.
Played at the Cliff Anderson Sports Hall, Homestretch Avenue, Thomas registered figures of 42 points which included five three pointers, three rebounds and one steal. Joe Ifill and Dave Causway were clearly in support mode as they netted eight and seven points respectively.
Leading the stat sheet for the losers were Naylon Loncke who collected 17 points, five rebounds and four steals. He was supported by Joslyn Crawford who picked up 13 points, 16 rebounds and two blocks.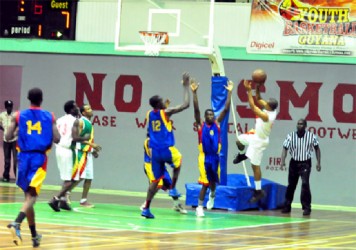 Registering a combined 14 points through the trio of Michael Turner, Loncke and Crawford, the challengers narrowly took the opening period 18-17 as Thomas began his offensive assault, netting 10 points in the period.
Thomas continued his dominant display, netting 11 points in the second stanza as the champions barely outscored the challengers 17 to 16 points to go into the half level pegging at 34-34.
The third quarter would prove to be nothing short of pivotal as the diminutive shooting guard scored 10 points as they champs out shot their opponents 27 to 8.
Forced to play second fiddle to the dominant Thomas, Causway sparked the eventual rout as hit a clutch three pointer to push his side into a six point lead at 40-34. Not to be outdone, Thomas nailed a three pointer of his own to extend the lead to 10 at 49-39.
Causway struck another three pointer dagger only before Thomas penetrated the lane to score an easy layup as the final quarter beckoned with the score at 61-42.
The carnage would continue in the final period as Thomas netted a further 11 points. Opening the quarter with a big three pointer, Thomas displayed fleet footedness as he easily penetrated the paint at will to score easy layups.
The highlight of the quarter would be a superb reverse left handed layup after he received a precision pass from Niko Fraser as the defending champs outscored Werk-en-Rust/Wortmanville by a 19-14 margin, sealing the vital first game.
Around the Web