The Guyana Defence Force (GDF) eliminated Pele 1-0 in a tense group 'B' fixture when the Georgetown Football Association (GFA) Players Cup continued at the Tucville Community ground on Sunday.
Eusi Phillips found the back of the net in the 90th minute for the army men. Bruising throughout the exchanges, GDF would create the first real chance in the 64th minute through right winger Delwyn Fraser after a disjointed first half by both sides. Picking up the ball in the midfield region, the nippy Fraser evaded multiple markers through his quick foot work before unleashing a powerful right-footed drive that was brilliant saved by Devon Charles at full stretch to his right between the uprights.
Okeene Fraser almost gave Pele the lead two minutes later but his powerful right footed strike from just inside the right side of the 18th yard box was neatly saved by GDF custodian Thyron Warren. Pele would be dealt a serious blow in the 70th minute as captain and centre half Shemroy Arthur was controversially sent off for dissent.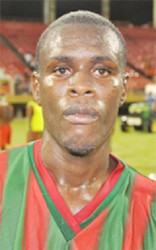 With a one man advantage, the diminutive Phillips would break the deadlock as he buried his flat right footed effort right down the middle of the goal after receiving a defence splitting Sherwin Caesar through pass.
Pele almost levelled proceedings in the very last minute of added time as Fraser rose above his marker but headed his effort just wide of the left hand corner after receiving a right sided cross from a free kick.
Victorious coach Denzil Thompson in a post-match comment said:"We are trying to create a brand of football. Had we scored, we would have put them under pressure. I feel good to myself, Pele has a good bunch of players but they are lacking coaching and are disorganized.
"It was not a bad game but the players got to lift the standard. We made it hard on ourselves by not scoring the goals early," added Thompson.
Losing Coach Barry Myers during an invited comment said:"I feel pleased how we played. It was poor officiating that handed GDF the game. Prior to that we were playing well. I thought they would play some vibrant football but they didn't play nothing."
In the mid-card fixture, Santos FC crushed Northern Rangers 4-1. Lerone Charles, Trevon Hoslel, Kenroy Demonick and Anthony Abrams led the assault with goals in the 21st, 23rd, 78th and 82nd minutes respectively.
Netting a consolation goal through a penalty kick in the 80th was Omalli Nassy. Bourda based unit, the Georgetown Football Club (GFC) edged Houston Stars by a 3-2 score line in the opening matchup.
Stephon Wilson and Anson Lynch were on target for the winners in the 27th and 36th minutes while a Dwight Ferguson own goal in the 34th minute completed the score line.
Etching their name on the scorer's sheet in a losing cause were Lindon Hinds and Eon Hunter in the 59th and 65th minutes correspondingly.
Around the Web