Middleweight, Marvin Ageday survived a knock down to earn a split decision victory over William Hendricks Sunday night in the feature bout of the second Mackeson Fight Night card at the National Cultural Centre tarmac.
Despite being floored in the third and final round,Ageday won two of the three rounds and improved his record following his victory over Kevin Rodney in Linden last weekend.
With a victory on Sunday in the final fight night in Berbice, Ageday will keep his hopes of topping the division alive when the tournament continues this weekend.
Rodney left the division wide open after he defeated Trevon King, who won against Hendricks last weekend, with a unanimous decision Sunday night.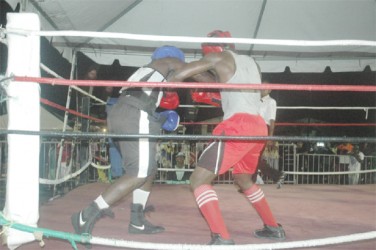 The Ageday/Hendricks bout sparked a lot of chatter from a very vocal crowd as the latter was the busier opponent in the two latter rounds even though he received some brutal combinations from Ageday.
In what seemed to be an even contest after two rounds, Hendricks who was the hungrier opponent went on the offensive to gain the advantage as the fans chanted "Beat him William, beat him."
Encouraged by the crowd, Hendricks caught a second win and landed a brutal right hand that floored Ageday in the final round.
However, Ageday forced the referee to employ a mandatory eight-count as he wobbled Hendricks after a right-hand combination.
After two cards,, Ageday remains unbeaten in the divisionwhile King and Rodney have a win and a loss each. Hendricks is yet to secure a win.
Meanwhile, in the welterweight division, Ron Smith defeated Clifton Graham while Bert Braithwaite kept his unbeaten run in tact with a unanimous decision against Aquincy Harvey in the Junior Welterweight division.
With the win, this places Braithwaite on a collision course with Kurt Kendall, who lost a unanimous decision to Kelon King.
In the Lightweight division, Stephan Gouveia knocked out Kevin Ting-A-Kee in the second round of their match up after the latter had given a spirited account of himself in the mining town.
Gouveia is unbeaten in the category while Clairmont Gibson, who outlasted Ting-A-Kee last week, lost a split decision to Anandram Dharamraj. Gouveia defeated Dharamraj last week.
Around the Web