Boxing fans will get their long awaited fill on October 13 as three CABOFE champions Clive 'The Punisher' Atwell, Dexter 'De Kid' Marques and Edmond 'Wonder Boy' DeClou will highlight 28 rounds of fistic fury at the Cliff Anderson Sports Hall.
Atwell, the undefeated CABOFE featherweight, junior welterweight and local featherweight and lightweight titlist will headline the 30th edition of the Guyana Fight Night Pro Am card against Jamaican brawler Glenroy 'Bumpy' Beckford in an eight-round lightweight bout.
DeClou, the CABOFE middleweight ruler will face hard hitting Berbician, Derrick Richmond in an eight-round affair while Marques, the flyweight champion will lace it up against new sensation Richard Williamson in their super bantamweight fisticuff also scheduled for eight rounds.
These three highly anticipated match ups as well as the junior welterweight four-round duel which pits David Thomas against Kishawn Simon will become official today following the contract signing at the Guyana Boxing Board of Control (GBBC) office.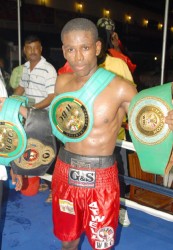 The 25 year-old 'Punisher' (11(6)-0-1) who is on top the local pound for pound food chain, will look to improve his record when he takes on the 36 year-old Beckford 3(1)-8(3)-0.
"It's another stepping stone for me," Atwell told Stabroek Sport yesterday.  I look forward to a challenge from Beckford and I also look forward to putting on a dominant boxing display."
The 'Wonder Boy' (14(3)-1(1)-1) as well as 'De Kid' (12(5)-2(2)-0) have both been out of the ring in excess of seven months and will look to dust off their ring rust with victories.
Simon will also look to pad his record.
When Stabroek Sport spoke with the super confident Simon yesterday the chiseled pugilist boasted: "In my fist I trust, it's a definite KO win for me and I will look spectacular doing it."
Will Atwell remain undefeated? Will DeClou and Marques come out victorious? and will Simon back up his boasts? These questions will be answered on October 13.
The names of the pugilists who will make up the amateur segment of the card will be announced subsequently.
Tickets will cost $1000 and bell time is 20:00hrs.
Around the Web