Colin Stuart, the former Guyana and West Indies fast bowler was yesterday reappointed Territorial Development Officer (TDO) of the Guyana Cricket Board (GCB), following his resignation from the position back in 2008.
Stuart, who has 144 first-class wickets under his belt along with 20 Test and 8 ODI scalps, replaced another former player and current Georgetown Cricket Club (GCC) Coach Monty Lynch who a few weeks back severed his ties with the GCB by stepping down from the TDO post.
Stabroek Sport in an exclusive interview sat down with Stuart who previously held the TDO position back in June of 2005 before resigning a few years later.
A current match referee of the GCB and the West Indies Cricket Board (WICB), Stuart said the he was excited to be back acting in the capacity of TDO, reinforcing that he will "tap into his past experience" in order to execute his tasks effectively.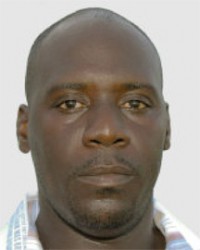 He noted that his tasks will be outlined by the GCB and WICB who will identify areas of concern and priority which needs to be attended.
He stated that he will be working with the plans given by the two boards, along with his own ideas and plans which he will bring to the table.
Stuart further explained that he will be working on a "short-term basis", which he will commence from October to December. This he said will allow executives to identify and execute goals in a more effective manner, rather than trying to do all at once.
Some of the areas Stuart hinted that he will be focusing on, will be the mental application players bring to the game. He noted that the physical aspect of the game was very important along with nutrition, which he said will be focused on as it relates to the players eating habits.
The ex- West Indies bowler continuously stressed on the emphasis needed to be placed on the mental outlook of cricket and promised to ensure that the respective playing levels including the Under-15, 17 and 19, along with the seniors fully understand the importance of this approach.
Special mention was also made regarding Demerara captain and West Indies all-rounder Christopher Barnwell, who Stuart lauded for his diligence on and off the field. He also said that he was impressed with a few other players who portrait the same ethics and hoped that players take a more professional approach to the game.
Stuart stated that he will be shortly attending a Cricket Tutors clinic in Jamaica pointing out that his mind was "clear and he is feeling great" about recommencing his career as TDO, as well as his willingness to work along with the cricketers from all the respective levels.
Around the Web