The Guyana Football Federation (GFF) and the Guyana Football Referees Council (GFRC) officially opened the FIFA Referees Assistants Programme (RAP) in Guyana at an opening ceremony yesterday at the Georgetown Club on Camp Street.
The programme, which will feature 30 referees, commenced yesterday at the Georgetown Club training facility and will conclude on Saturday.
Minister of Culture Youth and Sport Dr. Frank Anthony during the feature address said:"I must congratulate the GFF, the Referees Association and CFU for organizing the training session. Referees are very important in football because without them, the game would degenerate into chaos."
He added: "Take your training seriously and cultivate a mind that is very objective so you can make the right decisions. If you can use the lessons that will be learnt not only in football but life in general, then you stand a good chance of being a model citizen.
"We see this collaboration as a part of development. I like what I see so far but the GFF has a lot more to do. We are here to partner and facilitate with the GFF and GFRC for development. We want to professionalise people in sports but we first need to certify people," added Anthony.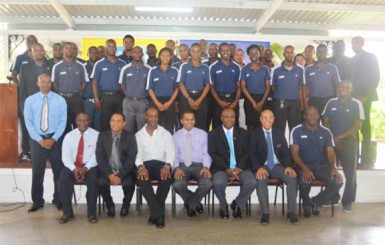 FIFA Referees Instructor, Jamaican Peter Prendergast during an address to the gathering said "This RAP programme is to professionalise the environment where the referees operate. They are specific requirements to guide this process. In recent times a referee department had been setup.
"Referees have a responsibility for fitness and personal care because when you go offshore, you are not only representing yourself but an entire nation. There will be temptation and offers and you will have to know what to accept and what not too. It's a very exciting programme, new modules will be taught and you have to open your mind to be willing to learn new techniques," added Prendergast.
GFRC President and Permanent Secretary of the Ministry of Culture Youth and Sport Alfred King said:"This is history in the making. I don't know if any other CFU nation has held five RAP programmes. The intention of the programme is to develop elite referees as referees are always charged with being the enforcers of the game and must use every opportunity to develop."
"We need to work along with the GFF to strengthen the structure for developing referees. Once we strengthen the structure, we can launch an initiative to expand. We also need to get more into the school system and offer being a referee as an opportunity for individuals to participate in football" added King.
GFF President Christopher Matthias said:"The role of the referee is that of a judge. They must exemplify professionalism as their conduct is always under the spot light in the field of play. May this experience be reflected in not only your professional and personal development but also in the development of the sport."
Referee Sherwin Moore gave the vote thanks stating: "Thanks to the table for taking time off to be here. The RAP always is a good training opportunity for referees and we are ready for the challenge."
In recognition of their sterling support to the sport, GFF President Matthias presented three identification badges to former national captain Earl O'Neil, National Head Coach Wayne Dover and Head of Referees Roy McArthur.
These badges will allow the holders free passage into every GFF and member association sanctioned football tournament.
Around the Web