Last year's 74kg Master Two world power lifting champion and two-time World Masters medalist, Winston 'Little Master' Stoby returned from Orlando, Florida on Sunday after smashing his world dead lift record en route to lifting the overall silver medal at the World Masters Power lifting Championships.
"It's good to be home again and I am proud of my achievement despite not repeating as champion," the soft-spoken Stoby told Stabroek Sport yesterday.
"In sports the best man always wins but I am determined to regain the championships next year," the 'Little Master' added. Stoby's total of 657.5kgs (1,449.78lbs) was not enough for him to repeat as champion as he was upstaged by top seeded Greg Page of the United States of America who lifted the overall gold with a total of 697.50kgs (1,537.98lbs).
Page and Stoby quickly got into their stride establishing a lead from the rest of the lifters with a one-two finish in the squats with Page registering 267.5kgs (589.83lbs) for individual gold and Stoby taking the silver with 250kgs (551.25lbs).
Heading into the second individual lift, the bench press, Page increased his lead grabbing his second gold with a press of 165kgs (363.82lbs) edging out Taniguchi of Japan 162.5kgs (358.31lbs) and Sahlgren of Denmark 145kgs (319.72lbs).
The 'Little Master' however, could only muster eighth place with a below par bench press of 130kgs (286.65lbs) having failed his first attempt at the same weight because he lifted before the judge's command to lift and failed his third lift at 240kg.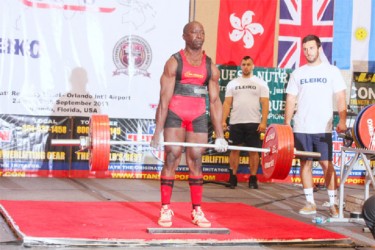 Heading into the final individual lift, the deadlift, with the sub total reading Page, 432.5kgs (953.66lbs) followed by Stoby 380kgs (837.90lbs) hotly pursued by Taniguchi in third with 377.5kgs (832.38lbs), the 'Little Master' changed gears in his pet lift by smashing his own world record of 272.5kgs (600.86lbs) with a lift of 277.5kgs (611.88lbs) in his second lift to capture the individual gold.
Page was relegated to second with a lift of 265kgs (584.32lbs) with Asmus of Germany taking third with 230kgs (507.15lbs).
With the three lifts completed the final tally for the Overall total Title found Page (USA) winning the gold medal with an aggregate of 697.50kgs (1,537.98lbs) to be the 2013 World 74kg Masters 2 champion. Earlier this year in July, the 54-year old captured gold in the Me
n's Open category in the 74kg class at the Caribbean Championships before settling for silver in the Pan American Masters segment behind G. Perez of the USA through technical hiccups in the execution of his lifts.
However, Stoby is now a two-time World Masters medalist and dead lift record holder in back to back championships.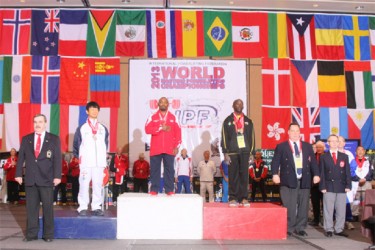 Around the Web