Banks DIH Limited yesterday appointed six sport ambassadors from several disciplines in recognition of their outstanding achievements and potential.
At the simple ceremony held in the Banks DIH Thirst Park boardroom, Communications Manager Troy Peters said the athletes are from the cycling, swimming, golf, table tennis, lawn tennis and squash fraternities. They are squash player Ashley De Groot, golfer Christine Sukhram, swimmer Soroya Simmons, lawn tennis player Daniel Lopes, table tennis competitor Stefan Corlette and lone Berbician, cyclist Neil Reece.
In recent years these athletes have represented Guyana at the highest levels of their sport. Banks has appointed them to represent three of its non-alcoholic beverages, namely Malta Supreme, Tropical Mist water and the I-Cee soft drink line.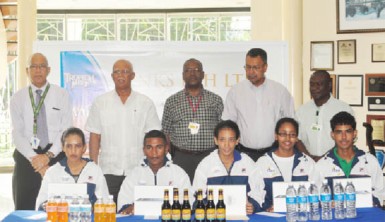 Banks Co-Managing and Marketing Director George McDonald said the company was pleased to appoint the young sportsmen and women as ambassadors.
In response, De Groot on behalf of the athletes lauded the beverage giant for its sponsorship and the opportunity to represent the, She also charged other youths to go after their dreams and to strive to be the best.
The awardees were given Apple IPads and $500,000; $360,000 for travel and $140,000 for attire and branded uniforms.  Banks encouraged them to maintain high standards in their endeavours.
Banks Chairman Clifford Reis, Operations Manager Michael Pereira and Human Resources Director Andrew Carto also attended the function.
Around the Web