NEW YORK,  CMC- Jamaica's martial artists have captured two gold and a silver to stamp their class at the New York Taekwondo Open for a second straight year.
Nicholas Dussard and Philip McDowell won light and heavyweight gold medals, while Ashieka Dyer went down in a thriller for silver. Team captain Jason McKay was stopped by masters champion Federico Gonzalez, the hometown favourite, whom he floored twice but failed to get the judges' nod.
"As sportsmen, we don't argue results. The judges pick and we accept their call," said McKay, who had also lost a close bout to the American in 2011.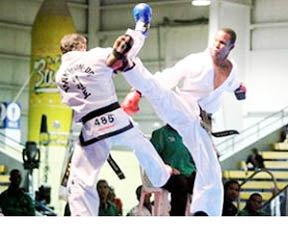 McDowell won gold after getting past US champion George Kayumov while Dyer, hunting her fourth consecutive international gold this season, lost narrowly to Canadian Chelsea Stone. Dussard skipped through his division with ease and beat former world champion Emanuel Carlos to rule the lightweight roost. "I expected to win in New York and did so convincingly," said Dussard ahead of this month's International Taekwondo Federation World Championships in Benidorm, Spain.
"I have already looked past that and am entirely focused on Spain".
Around the Web