The Linden Amateur Basketball Association (LABA) in collaboration with BOSAI Minerals Group Guyana Inc has installed three new lamps at the Mackenzie Sports Club (MSC) hard court in Linden.
The MSC court is the Mecca of basketball and over the years, the lights had dimmed as three of the six lamps had gone out. The LABA purchased new lamps and sought help from Bosai to install them. LABA Organizing Secretary Ashton Angel Jr presented the bulbs to the Steward of the MSC, Loren Allen and thanked Bosai for their assistance.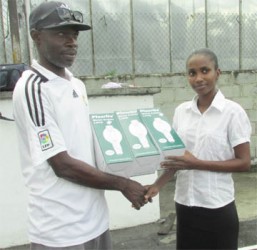 In response, Allen said the MSC was grateful to the bauxite company and pointed out that over the years Bosai has been a good corporate citizen. She also extended good wishes to the LABA as it strives to advance basketball in the region.
The MSC also provided its welding set for the installation of the metal boxes that will hold the ballasts donated by Bosai to operate the lamps on the poles.
Around the Web