When national cyclist Alanzo Greaves represents Guyana at the Caribbean Cycling Championships in Curacao later this month he will be aided by a new pair of wheels.
Compliments of Bounty Farm Limited, this season's most successful wheelsman received a sponsorship cheque to the tune of $US1200 to help in purchasing Zipp 404 Carbon Wheels to be used at the Championships from October 19 to 20.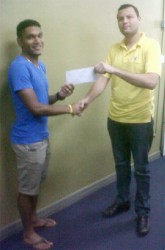 During a simple handing over ceremony yesterday at the company's head office, Greaves collected the cheque from Accountant, Roger Perreira.
Around the Web